Night of the Mannequins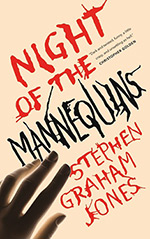 Night of the Mannequins
illegible_scribble
10/15/2020


This is not an SFF story, it is a psychological horror/slasher story of one person's descent into madness. Its main characters are several teenagers whose thoughts and behavior are very different from mine when I was a teenager, and I found it pretty hard to relate to them.
If you enjoy psychological horror/slasher stories, this novella may be for you. If you're looking for science fiction or fantasy, you won't find it here.
Content warning for graphic murder scenes.