Axis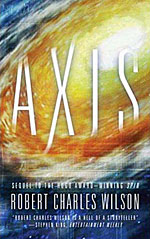 Axis
ed.rybicki
2/9/2022


This is a great follow-up to Spin: it covers a shorter time span, less breadth of the Spin Universe, but goes into depth about what the Hypotheticals are, and how they interact with the universe - and with humans.
Because that's the centre of the story: the boy who is made to interact with Hypotheticals, and ends up doing so - spectacularly.
I liked this book a lot. I am now going to binge on Number 3.
http://edrybicki.wordpress.com