The Citadel of Weeping Pearls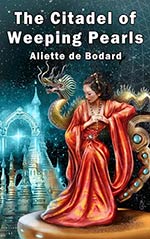 The Citadel of Weeping Pearls
Lett
4/14/2022


*Spoilers Alert*
The ending took a somehow metaphysical/transcendental/spiritual meaning when the bright sister and the relegated-to-the-obscure-second-place sister united and transcended to a higher realm away from time and conflicts.
The mother, who had started a war against her own daughter for fear, stayed in our 'lower' realm to continue fighting a much worse war. The empress was a very contradictory character, torn between duty and feelings, fear and love.
This Novella had a sad and beautiful end to a story not only about mothers and daughters but about higher themes like the choice between war and peace, conflict or acceptance.
https://leticiatoraci.wordpress.com/