Aurora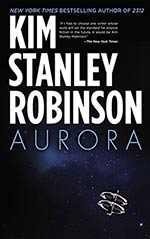 Aurora
Bormgans
8/7/2015


This is only the second Robinson novel I've read, but both this and 2312 have propelled him to the forefronts of my favorite authors list. Aurora is Hard SF as it should be done, and as a realistic, meticulously researched book about a generational interstellar ship, it should be obligatory reading for any aspiring SF author that wants to write about big spaceships.
For after reading Aurora you have 2 options as a SF writer:
(...)
Please click the link below to read the rest of this review.
https://schicksalgemeinschaft.wordpress.com/2015/10/09/aurora-kim-stanley-robinson-2015/