Central Station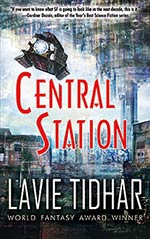 Literature! Ohran Pamuk!
Bormgans
12/12/2016


It strikes me as odd that people still are into this whole Literature vs. non-Literature distinction, especially people who review science fiction. Yet publishers like Tachyon make themselves complicit to this continuing confusion when they slap stuff like "magnificently blends literary and speculative elements... Readers of all persuasions will be entranced" on the back cover of their books.
It's understandable Tachyon does so: it adds cultural credits and a veneer of Serious Art to Lavie Tidhar's newest book. They hope it will help sell more copies of Central Station, also outside the speculative crowd. I think they are mistaken. More on that later.
(...)
Please click below to continue reading on Weighing A Pig...
https://schicksalgemeinschaft.wordpress.com/2016/12/12/central-station-lavie-tidhar-2016/