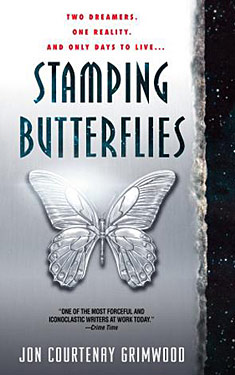 Stamping Butterflies
Author:
Jon Courtenay Grimwood

Publisher:
Gollancz, 2004

Series:

This book does not appear to be part of a series. If this is incorrect, and you know the name of the series to which it belongs, please let us know.

Submit Series Details

Book Type:
Novel
Genre:
Science-Fiction
Sub-Genre Tags:
Awards:
Lists:
Links:
Avg Member Rating:

(11 reads / 3 ratings)
Synopsis
From acclaimed author Jon Courtenay Grimwood comes an exotic new novel that defies expectation at every turn. A mystery, a thriller, and a cutting-edge sci-fi adventure all in one, Stamping Butterflies bends time, genre, and consciousness itself to tell the spellbinding story of two worlds, three lives, one future-and the question upon which everything depends: who is dreaming whom....
From Marrakech to China's Forbidden City, from a doomed starship carrying a cryogenically preserved crew to an island prison camp, the fate of the world is being played out in the minds of two dreamers. One, a would-be assassin obsessed with enigmatic equations, has set out to kill the U.S. President. The other is a young Chinese emperor ruling thousands of years in the future. Each believes he is dreaming the other. One must change the future; one must change the past. And time is running out for both.
Caught in the maelstrom is a motley cast of characters, each an unwitting key to the ultimate fate of both worlds: Moz, a resourceful young Marrakech street punk, and his half-German girlfriend, Malika; Jake Razor, a self-exiled rock star; and psychiatrist Katie Petrov, who finds herself racing against a looming death sentence to pry free the secret of her condemned patient-a secret with the power to restore hope to the future...or stamp it out forever.
Excerpt
Chapter One
Marrakech, Saturday 12 May
President Gene Newman liked visiting new cities. In fact, he liked it so much he took the trouble to have one of his interns write up brief histories for each city he was about to visit. The note for Marrakech, named for Marra Kouch (meaning unknown), and peopled mainly by Berbers, being North Africans in direct descent from a prehistoric Ibero-Mauretanian culture, had run to five pages and been crammed full of similar facts.
When challenged, the intern informed the President that she hadn't been allowed enough time to make her essay shorter and he should try harder with the history. She was allowed to say things like that. Ally was his only daughter.
"Enjoying yourself?" the US ambassador asked.
The correct response was Yes. So Ally nodded, despite midday heat which had sweat running down her spine and was already making embarrassing stains under the arms of her T-shirt.
Most of Marrakech had turned out to watch the new American President, his daughter and their bodyguards trudge across the sticky expanse of Djemaa el Fna, North Africa's most famous square. They were accompanied on this walk by a very senior minister of the Moroccan government and the US ambassador, who was doing his best to look unruffled by the jellaba-clad crowds who pushed against hastily erected barriers.
Gene Newman was here against the advice of his own staff, mostly to prove that he was not the previous incumbent, a man given to calling up generals for advice when playing Command and Conquer on the PS2. So said Ally, who'd got it from another intern who had it from a woman on the switchboard. It was a good story, but probably not true.
Marrakech was the reason Ally had joined him on the North African section of this trip. She'd seen the Medina featured in an old Bond film and wanted to experience the crowds and the chaos of the Old City for herself. He could tell from Ally's expression that she'd been expecting more. That was the big problem with being fifteen, emotions showed on your face. Hypocrisy came with age, at least it did in his experience.
"Maybe that stuff was just for the film..."
"Ally?" The President bent his head.
"There were monkeys," Ally said. "And bald men juggling knives. Someone had a camel to give rides."
"We have snake charmers, medicine men and belly dancers." The Moroccan minister had to lean across Gene Newman to explain this. "And those people ringing bells in red with the huge hats are water sellers. But sometimes film companies want more."
Ally nodded, yet still managed to look doubtful.
Her black jeans and long-sleeved purple T-shirt, tied-back blonde hair and huge dark glasses to protect her eyes from the sun, while simultaneously hiding the top half of her face, had been carefully chosen.
Demure enough to impress those behind the barriers grown used to seeing the daughters of nasrani tourists wear little more than tight shorts or low-cut vests, but not so much of a compromise that her outfit played badly with hard-core liberals and redneck critics back home.
A scarf had been suggested by the Moroccans and politely rejected. No one really expecting their proposal to be any more than that, a simple suggestion made for form rather than anything else.
The man speaking to Ally Newman was a first cousin of the King, or maybe it was second. Gene Newman knew his name, he just wasn't able to pronounce it, at least not with sufficient confidence to use it socially. So he called the minister "my friend" and hoped he wasn't causing too much offence.
Although his very presence in Morocco had already caused offence to many, Gene Newman understood this. He'd read the digests and then demanded sight of the CIA originals on which the digests were based. It was touch and go whether this visit would cause more good than harm.
Gene Newman sighed.
"You also wanted to see the Barbary apes?"
His Excellency looked anxious. As if he should have realized that a thousand years of history was not enough.
"I've been here before," admitted President Newman. "After college. It's every bit as impressive as I remember... No," he said, shaking his head. "Just forgot to call my wife last night. Not clever."
"Ahh." The other man looked sympathetic. "You could do it immediately after this."
"You're right," said Gene Newman. "And we probably do need to turn back."
This last was addressed to his daughter. A nod to the nearest Secret Service agent told the man that the President was done, while an equally quick nod to his daughter, followed by a glance at His Excellency, told Ally exactly what was expected of her.
"Thank you," she said with a smile. "It's been really interesting."
"Interesting" was a Newman family word for boring, but the minister didn't know that and this was just as well, because Ally could see from her father's frown that she should have said something different.
"I mean it," she said hastily. "It would have been neat to see monkeys but this is really, really..." Ally gestured round the vast square with its jellaba-clad crowd now spilling out onto flat roofs and filling the upper balconies of a long café behind them.
"It's really something," said Ally.
"You like?" The minister sounded pleased. Although why the cousin of a king should care what a fifteen-year-old American girl thought Ally wasn't sure.
"Oh yes," she started to say. "I really--"
That was when the ?rst bullet hit the dust beside her, and an agent she'd barely noticed before slammed Ally to the dirt, breaking a ?oating rib on her left side as he rolled over her, putting his bulk between the girl and the direction of the shot. "Stay down," growled his voice in Ally's ear. "There might be another."
The ri?e was an old Kropatscheck rechambered for 8mm. It had seen service with the Vichy forces in North Africa and then--a decade later--been wrapped in oilcloth and stacked in the corner of a cellar for a further fifty years, half hidden and almost forgotten.
Until today.
Wiping vomit from his lips, the man who was not Jake fumbled the ri?e into its component bits, cleaned the bolt with a scrap of rag held between shaky ?ngers, ejected seven unused bullets from the tubular magazine and haphazardly wiped down both magazine and bullets while he waited for the police to ?nd him.
He had failed and for this he would not be forgiven.
The darkness had suggested the minaret of La Koutoubia as an ideal place from which to shoot the President, but this proved to be out of the question, because uniforms of every hue had begun locking down the area around Djemaa el Fna before the tramp even remembered where to ?nd the ri?e.
Actually, a minaret from any of the other three mosques overlooking the massive square would have done just as well, as would the roof terrace of Café Argana or even Les Terrasses de l'Alhambra, which hadn't been there when he ?rst knew the city.
In the end he'd been reduced to climbing the scaffolding on a building site off Rue Zitoun el Oedim. "Shit choice," said the man.
And the ghost at his back had to agree.
Ridiculously beautiful with his honey-dark skin and huge eyes, the teenage boy was arguing with a bare-kneed girl on a roof that no longer existed, but which the tramp could just have seen, had the dog woman's house not fallen down in the years since he'd been away.
Neither the girl, the boy nor the man who remembered them had any doubt about the fact that the boy was losing. And even now, with the Kropatscheck reassembled in his hands and darkness still using his eyes, the bearded tramp could summon up Marzaq al-Turq's thin face and that of the red-haired girl, all rounded cheeks and down-turned mouth, which only levelled out on the rare occasions when she smiled.
"Please," Moz said, as he combed lemon-juice highlights into the hair of a girl called Malika. "This is important."
The house had belonged to the English woman and it sat on the corner of Derb Yassin and a nameless alley, in the old Jewish district, in the days when the Mellah still held more than a handful of Yehoudia. Once, of course, there had been nearly forty thousand Jews living in the Mellah, but the foundation of Israel and the Arab--Israeli con?icts had put an end to that.
When begging didn't work, Moz tried blackmail. "Look," he said, "you have to--"
"No," said the girl, "I don't." Her patience had gone, her voice was tight. If Moz possessed more sense he'd have paid attention to Malika's warning signs.
"You would," Moz insisted, "if--"
"If what? I loved you?"
Moz nodded.
"You know," Malika said, "my mother warned me about boys like you."
It was a bad joke. The woman was long dead and there were no other boys like Moz in Marrakech, nor girls like Malika either; that was what they told themselves. Moz and Malika were what Marrakech had for punks, a half-English waif given to wearing men's shrts instead of dresses and a half-German boy in jeans, with newly dyed black hair and shades stolen from his employer, Jake Razor.
Sat there on the roof of Dar el Beida, at a time somewhere between noon and the next call to prayer, an hour when the city panted like an old cur under the weight of its own exhaustion...
Copyright © 2004 by Jon Courtenay Grimwood
Reviews
There are currently no reviews for this novel. Be the first to submit one! You must be logged in to submit a review in the BookTrackr section above.
Images
No alternate cover images currently exist for this novel. Be the first to submit one!