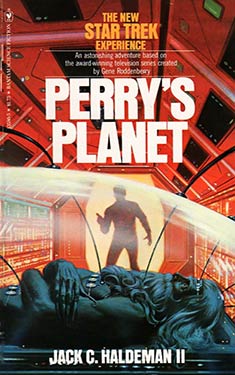 Synopsis
The Enterprise is ordered to the planet Perry, which was the destination of a group of colonists three hundred years ago. They arrive to find an utterly peaceful society, where no one is able to even think of violence. However, there are a few people, known as Immunes, who are resistant to the complete peace, and they capture Captain Kirk, Spock, McCoy, Uhura, and Kelly Davis, a Doctor temporarily on board the Enterprise as she recovers from an explosion in a transporter room. On board the Enterprise, Scotty is faced with more trouble from a Klingon Commander named Korol, who has sworn a blood oath to kill Kirk.
SHIP'S LOG, LIEUTENANT COMMANDER MONTGOMERY SCOTT RECORDING, STARDATE 6845.3
The situation on board the Enterprise is now critical. That strange "disease" accidentally brought back from Perry's Planet by the landing party has made it impossible for us to even think about committing an act of violence: as long as the Klingons continue their sporadic firing, we are helpless, unable to leave orbit or use the transporter and still maintain our shields at the necessary level. For now, we can only maintain a defensive posture - and before too long, the ship's failing dilithium crystals will prevent even that. Because we have been unable to contact Captain Kirk or the rest of the landing party for several hours, I've held off taking any action, but our position is deteriorating rapidly. In short, we are running out of options.
Excerpt
No excerpt currently exists for this novel.
Reviews
Images
No alternate cover images currently exist for this novel.