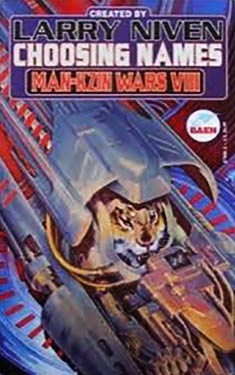 Man-Kzin Wars VIII: Choosing Names
Synopsis
The Kzin had learned of the existence of human-occupied space, a find that promised new technologies for the race, and new wealth for the fierce Kzin Warriors in the form of land, slaves... and food. Kzin had sent ships to probe the Solar System, expecting no danger from mere weed-eating apes. But the Warrior Race had underestimated monkey ingenuity, and the ships were destroyed by "peaceful" technology that the humans had hurriedly changed into weaponry.The surviving Kzin have been caged and are being studied. "For you, the war is over", the monkey-boys have told the Kzin. Incomprehensible to the Kzin, for whom no war is ever over. The humans are sure that the huge warcats cannot escape their prison. But there is something the humans do not realize. One of the Kzin is a telepath....
Contents:
1 - Choosing Names - [Man-Kzin Wars] - (1998) - shortstory by Larry Niven
17 - Telepath's Dance - [Man-Kzin Wars] - (1998) - novella by Hal Colebatch
129 - Galley Slave - [Man-Kzin Wars] - (1996) - novelette by Jean Lamb
159 - Jotok - [Man-Kzin Wars] - (1998) - novelette by Paul Chafe
197 - Slowboat Nightmare - [Man-Kzin Wars] - (1998) - novella by Warren W. James
Excerpt
No excerpt currently exists for this novel.
Reviews
There are currently no reviews for this novel. Be the first to submit one! You must be logged in to submit a review in the BookTrackr section above.
Images
No alternate cover images currently exist for this novel.