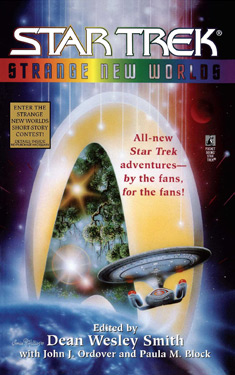 Synopsis
Here's what you, the fans, have demanded for decades! An anthology featuring original Star Trek, Star Trek: The Next Generation, Star Trek: Deep Space Nine, and Star Trek: Voyager stories written by Star Trek fans, for Star Trek fans!
After a lengthy competition that drew thousands of submissions; these astounding stories, written exclusively by brand-new authors, were selected for their originality and style. These eighteen fantastic tales rocket across the length and breadth of Federation time and space, from when Captain Kirk explored the galaxy on the first Starship Enterprise, through Captain Picard's U.S.S. Enterprise 1701-D and Captain Sisko's Deep Space Nine to Captain Janeway's Voyager, with many fascinating stops along the way.
Table of Contents:
ix - Introduction (Strange New Worlds) - essay by Dean Wesley Smith
3 - A Private Anecdote - shortstory by Landon Cary Dalton
13 - The Last Tribble - shortstory by Keith L. Davis
26 - The Lights in the Sky - shortstory by Phaedra Weldon [as by Phaedra M. Weldon ]
46 - Reflections - novelette by Dayton Ward
71 - What Went Through Data's Mind 0.68 Seconds Before the Satellite Hit - shortstory by Dylan Otto Krider
79 - The Naked Truth - novelette by Jerry M. Wolfe
100 - The First - shortstory by Peg Robinson
114 - See Spot Run - shortstory by Kathy Oltion
130 - Together Again, for the First Time - shortstory by Bobbie Benton Hull
149 - Civil Disobedience - shortstory by Alara Rogers
156 - Of Cabbages and Kings - shortstory by Franklin Thatcher
177 - Life's Lessons - shortstory by Christina F. York
195 - Where I Fell Before My Enemy - shortstory by Vince Bonasso
217 - Good Night, Voyager - novelette by Patrick Cumby
242 - Ambassador at Large - novelette by J. A. Rosales
264 - Fiction - novelette by jaQ Andrews
286 - I, Voyager - shortstory by Jackee C.
296 - Monthuglu - novelette by Craig D. B. Patton
317 - The Man Who Sold the Sky - shortstory by John J. Ordover
320 - The Girl Who Controlled Gene Kelly's Feet - novelette by Paula M. Block
353 - My First Story - essay by John J. Ordover
355 - A Few Words ... - essay by Paula M. Block
365 - About the Contributors (Strange New Worlds) - essay by uncredited
Excerpt
No excerpt currently exists for this novel.
Reviews
There are currently no reviews for this novel. Be the first to submit one! You must be logged in to submit a review in the BookTrackr section above.
Images
No alternate cover images currently exist for this novel.