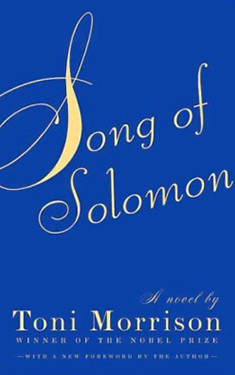 Synopsis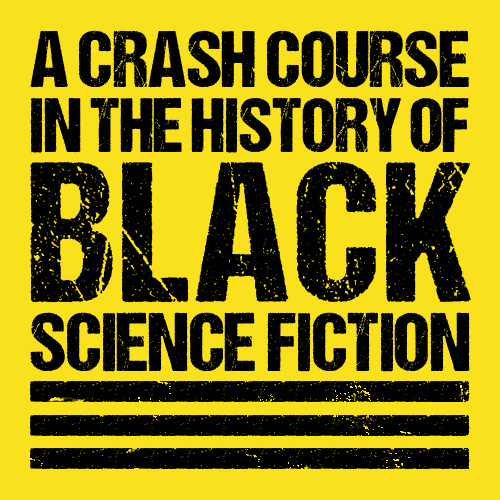 This work is a selction from author Nisi Shawl's: A Crash Course in the History of Black Science Fiction, an annotated list of 40+ black science fiction works that are important to your understanding of its history. Read more about this selection below.
Milkman Dead was born shortly after a neighborhood eccentric hurled himself off a rooftop in a vain attempt at flight. For the rest of his life he, too, will be trying to fly. With this brilliantly imagined novel, Toni Morrison transfigures the coming-of-age story as audaciously as Saul Bellow or Gabriel García Márquez. As she follows Milkman from his rustbelt city to the place of his family's origins, Morrison introduces an entire cast of strivers and seeresses, liars and assassins, the inhabitants of a fully realized black world.
Excerpt
Chapter 1
The North Carolina Mutual Life Insurance agent promised to fly from Mercy to the other side of Lake Superior at three o'clock. Two days before the event was to take place he tacked a note on the door of his little yellow house:

At 3:00 p.m. on Wednesday the 18th of February, 1931, I will take off from Mercy and fly away on my own wings. Please forgive me. I loved you all.
(signed) Robert Smith,
Ins. agent

Mr. Smith didn't draw as big a crowd as Lindbergh had four years earlier--not more than forty or fifty people showed up--because it was already eleven o'clock in the morning, on the very Wednesday he had chosen for his flight, before anybody read the note. At that time of day, during the middle of the week, word-of-mouth news just lumbered along. Children were in school; men were at work; and most of the women were fastening their corsets and getting ready to go see what tails or entrails the butcher might be giving away. Only the unemployed, the self-employed, and the very young were available--deliberately available because they'd heard about it, or accidentally available because they happened to be walking at that exact moment in the shore end of Not Doctor Street, a name the post office did not recognize. Town maps registered the street as Mains Avenue, but the only colored doctor in the city had lived and died on that street, and when he moved there in 1896 his patients took to calling the street, which none of them lived in or near, Doctor Street. Later, when other Negroes moved there, and when the postal service became a popular means of transferring messages among them, envelopes from Louisiana, Virginia, Alabama, and Georgia began to arrive addressed to people at house numbers on Doctor Street. The post office workers returned these envelopes or passed them on to the Dead Letter Office. Then in 1918, when colored men were being drafted, a few gave their address at the recruitment office as Doctor Street. In that way, the name acquired a quasi-official status. But not for long. Some of the city legislators, whose concern for appropriate names and the maintenance of the city's landmarks was the principal part of their political life, saw to it that "Doctor Street" was never used in any official capacity. And since they knew that only Southside residents kept it up, they had notices posted in the stores, barbershops, and restaurants in that part of the city saying that the avenue running northerly and southerly from Shore Road fronting the lake to the junction of routes 6 and 2 leading to Pennsylvania, and also running parallel to and between Rutherford Avenue and Broadway, had always been and would always be known as Mains Avenue and not Doctor Street.
It was a genuinely clarifying public notice because it gave Southside residents a way to keep their memories alive and please the city legislators as well. They called it Not Doctor Street, and were inclined to call the charity hospital at its northern end No Mercy Hospital since it was 1931, on the day following Mr. Smith's leap from its cupola, before the first colored expectant mother was allowed to give birth inside its wards and not on its steps. The reason for the hospital's generosity to that particular woman was not the fact that she was the only child of this Negro doctor, for during his entire professional life he had never been granted hospital privileges and only two of his patients were ever admitted to Mercy, both white. Besides, the doctor had been dead a long time by 1931. It must have been Mr. Smith's leap from the roof over their heads that made them admit her. In any case, whether or not the little insurance agent's conviction that he could fly contributed to the place of her delivery, it certainly contributed to its time.
When the dead doctor's daughter saw Mr. Smith emerge as promptly as he had promised from behind the cupola, his wide blue silk wings curved forward around his chest, she dropped her covered peck basket, spilling red velvet rose petals. The wind blew them about, up, down, and into small mounds of snow. Her half-grown daughters scrambled about trying to catch them, while their mother moaned and held the underside of her stomach. The rose-petal scramble got a lot of attention, but the pregnant lady's moans did not. Everyone knew the girls had spent hour after hour tracing, cutting, and stitching the costly velvet, and that Gerhardt's Department Store would be quick to reject any that were soiled.
It was nice and gay there for a while. The men joined in trying to collect the scraps before the snow soaked through them--snatching them from a gust of wind or plucking them delicately from the snow. And the very young children couldn't make up their minds whether to watch the man circled in blue on the roof or the bits of red flashing around on the ground. Their dilemma was solved when a woman suddenly burst into song. The singer, standing at the back of the crowd, was as poorly dressed as the doctor's daughter was well dressed. The latter had on a neat gray coat with the traditional pregnant-woman bow at her navel, a black cloche, and a pair of four-button ladies' galoshes. The singing woman wore a knitted navy cap pulled far down over her forehead. She had wrapped herself up in an old quilt instead of a winter coat. Her head cocked to one side, her eyes fixed on Mr. Robert Smith, she sang in a powerful contralto:

O Sugarman done fly away
Sugarman done gone
Sugarman cut across the sky
Sugarman gone home....

A few of the half a hundred or so people gathered there nudged each other and sniggered. Others listened as though it were the helpful and defining piano music in a silent movie. They stood this way for some time, none of them crying out to Mr. Smith, all of them preoccupied with one or the other of the minor events about them, until the hospital people came.
They had been watching from the windows--at first with mild curiosity, then, as the crowd seemed to swell to the very walls of the hospital, they watched with apprehension. They wondered if one of those things that racial-uplift groups were always organizing was taking place. But when they saw neither placards nor speakers, they ventured outside into the cold: white-coated surgeons, dark-jacketed business and personnel clerks, and three nurses in starched jumpers.
The sight of Mr. Smith and his wide blue wings transfixed them for a few seconds, as did the woman's singing and the roses strewn about. Some of them thought briefly that this was probably some form of worship. Philadelphia, where Father Divine reigned, wasn't all that far away. Perhaps the young girls holding baskets of flowers were two of his virgins. But the laughter of a gold-toothed man brought them back to their senses. They stopped daydreaming and swiftly got down to business, giving orders. Their shouts and bustling caused great confusion where before there had been only a few men and some girls playing with pieces of velvet and a woman singing.
One of the nurses, hoping to bring some efficiency into the disorder, searched the faces around her until she saw a stout woman who looked as though she might move the earth if she wanted to.
"You," she said, moving toward the stout woman. "Are these your children?"
The stout woman turned her head slowly, her eyebrows lifted at the carelessness of the address. Then, seeing where the voice came from, she lowered her brows and veiled her eyes.
"Ma'am?"
"Send one around back to the emergency office. Tell him to tell the guard to get over here quick. That boy there can go. That one." She pointed to a cat-eyed boy about five or six years old.
The stout woman slid her eyes down the nurse's finger and looked at the child she was pointing to.
"Guitar, ma'am."
"What?"
"Guitar."
The nurse gazed at the stout woman as though she had spoken Welsh. Then she closed her mouth, looked again at the cat-eyed boy, and lacing her fingers, spoke her next words very slowly to him.
"Listen. Go around to the back of the hospital to the guard's office. It will say 'Emergency Admissions' on the door. A-D-M-I-S-I-O-N-S. But the guard will be there. Tell him to get over here-- on the double. Move now. Move!" She unlaced her fingers and made scooping motions with her hands, the palms pushing against the wintry air.
A man in a brown suit came toward her, puffing little white clouds of breath. "Fire truck's on its way. Get back inside. You'll freeze to death."
The nurse nodded.
"You left out a s, ma'am," the boy said. The North was new to him and he had just begun to learn he could speak up to white people. But she'd already gone, rubbing her arms against the cold.
"Granny, she left out a s."
"And a 'please.' "
"You reckon he'll jump?"
"A nutwagon do anything."
"Who is he?"
"Collects insurance. A nutwagon."
"Who is that lady singing?"
"That, baby, is the very last thing in pea-time." But she smiled when she looked at the singing woman, so the cat-eyed boy listened to the musical performance with at least as much interest as he devoted to the man flapping his wings on top of the hospital.
The crowd was beginning to be a little nervous now that the law was being called in. They each knew Mr. Smith. He came to their houses twice a month to collect one dollar and sixty-eight cents and write down on a little yellow card both the date and their eighty-four cents a week payment. They were always half a month or so behind, and talked endlessly to him about paying ahead--after they had a preliminary discussion about what he was doing back so soon anyway.
"You back in here already? Look like I just got rid of you."
"I'm tired of seeing your face. Really tired."
"I knew it. Soon's I get two dimes back...
Copyright © 1977 by Toni Morrison
Reviews
Images
No alternate cover images currently exist for this novel. Be the first to submit one!