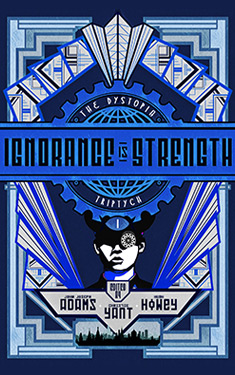 Synopsis
War is peace. Freedom is slavery. Ignorance is strength.
George Orwell once wrote of a world where abuse of power begins with an abuse of language and a bastardization of truth. Some of today's most exciting voices in speculative fiction explore the ramifications of those ideas in IGNORANCE IS STRENGTH.
THE DYSTOPIA TRIPTYCH is a series of three anthologies of dystopian fiction. IGNORANCE IS STRENGTH--before the dystopia--focuses on society during its descent into absurdity and madness. BURN THE ASHES--during the dystopia--turns its attention to life during the strangest, most dire times. OR ELSE THE LIGHT--after the dystopia--concludes the saga with each author sharing their own vision of how we as a society might crawl back from the precipice of despair.
IGNORANCE IS STRENGTH features all-new, never-before-published works by Hugh Howey, Seanan McGuire, Carrie Vaughn, Scott Sigler, Cadwell Turnbull, Karin Lowachee, Caroline M. Yoachim, Adam-Troy Castro, An Owomoyela, Tobias S. Buckell, Tim Pratt, Rich Larson, Alex Irvine, Darcie Little Badger, Violet Allen, and Merc Fenn Wolfmoor, plus a reprint by Dominica Phetteplace.
Excerpt
INTRODUCTION
IT HAS BECOME cliché over the years to introduce dystopian works by saying we live in troubling times. But for this work, it would be an understatement.
As we're finalizing this text, the world has largely shut itself down. A pandemic unlike any seen in a century has swept the globe. And social injustice has led to the largest worldwide protests in a generation. While the suffering, death, and economic ruin will understandably grab the headlines, these atrocities are greatly aided by a more sinister story.
It is a story that's been told before. It was told in George Orwell's 1984, in Ray Bradbury's Fahrenheit 451, in Margaret Atwood's A Handmaid's Tale--and a thousand other times--as a warning, as a protest, as an attempt to laugh rather than weep. It is the story of mankind turning on itself, of falling prey to its baser impulses, and of the willingness of a crooked minority to hurt the many to benefit the few.
It's often the story of how to set things straight again.
The satirical farces of our childhoods have become news items told with straight faces. Government employees edited historical photographs to blur out criticism of The Great Leader. Alternate histories are told every day as leaders who decried a pandemic as a hoax now say they saw it was a threat before anyone else. Politicians tell their constituents that the economy is more important than their lives. And those who protest the right to get a haircut say it's wrong to protest systemic racism and police brutality.
They might as well be saying: War is peace. Freedom is slavery. Ignorance is strength.
But to call it "Orwellian" is putting it too mildly. Doublespeak that once seemed like nonsense in an author's imaginings now seems prophetic. That's because George, Ray, Margaret, and countless others have told us this before.
The tale is not new, but it demands to be told again and again, and thus we are proud to present The Dystopia Triptych. This is the first of three collections of dystopian stories told by fresh voices with warnings both new and familiar. They are meant to not only be enjoyed but heeded.
Many speculative fiction books begin with fantastical maps or extensive family trees so you can keep all the names straight. You'll find neither of those things here.
These books are the map.
The names are our own.
This is the way we should not go.
THE EDITORS
Sheltering in Place
2020, the Year of Hindsight
Copyright © 2020 by John Joseph Adams
Copyright © 2020 by Christie Yant
Copyright © 2020 by Hugh Howey
Reviews
There are currently no reviews for this novel. Be the first to submit one! You must be logged in to submit a review in the BookTrackr section above.
Images
No alternate cover images currently exist for this novel. Be the first to submit one!