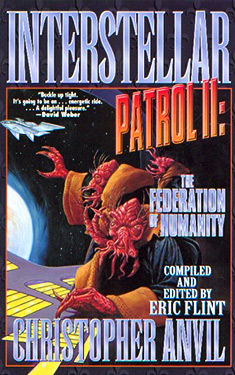 Synopsis
Vaughan Roberts and his two companions had been trapped on a crime-ridden, chaotic planet until they bamboozled the population with a gigantic hoax - which brought them to the attention of the Interstellar Patrol, who were looking for a few good con men, capable of ingenious improvisation and adept at playing dirty tricks on the bad guys. The new recruits acquitted themselves admirably, so they naturally were given more tough nuts to crack, including:
Flummoxing an alien empire which has taken a number of human prisoners as reconnaisance for an invasion. This has a personal aspect, since the prisoners are from the planet which Roberts tricked into reforming...
Stopping a plan by not-so-good Samaritans who are pretending to cure a planetary plague - which they introduced to the planet - with a ''miracle'' drug which creates an addiction to the same drug, which the schemers will be glad to continue supplying for ever-increasing sums...
Not only rescuing some Patrol personnel taken hostage by fanatics who plan to execute them one at a time until their leader is released, but convincing other fanatics throughout the galaxy that the consequences of threatening anyone in the Patrol are too terrible even to think about...
Making sure that the rightful heir to a planet's throne escapes from captivity and overthrows the usurper. This time there's a complication: Roberts may be falling for the ruler's beautiful sister...
And much more...
Table of Contents:
The Claw and the Clock (1971) - novelette
"Riddle Me This ... " (1972) - novelette
The Unknown (1972) - novelette
The Throne and the Usurper (1970) - novelette
The Trojan Hostage (1990) - novelette
Warlord's World (1975) - novel
Goliath and the Beanstalk (1958) - short story
Facts to Fit the Theory (1966) - novelette
Cantor's War (1974) - short story
Uplift the Savage (1968) - short story
Odds (1977) - novelette
The Troublemaker (1960) - short story
Bill for Delivery (1964) - short story
Untropy (1966) - novelette
The Low Road (1970) - short story
Trial by Silk (1970) - novelette
The Operator (1971) - novelette
While the North Wind Blows (1978) - novelette
Leverage (1959) - short story
The Sieve (1959) - short story
Mating Problems (1959) - short story
Hunger (1964) - short story
Contrast (1964) - short story
Afterword - essay by Eric Flint
Excerpt
No excerpt currently exists for this novel.
Reviews
There are currently no reviews for this novel. Be the first to submit one! You must be logged in to submit a review in the BookTrackr section above.
Images
No alternate cover images currently exist for this novel.