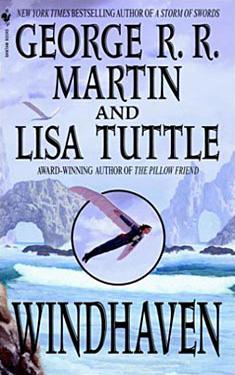 Synopsis
The planet of Windhaven was not originally a home to humans, but it became one following the crash of a colony starship. It is a world of small islands, harsh weather, and monster-infested seas. Communication among the scattered settlements was virtually impossible until the discovery that, thanks to light gravity and a dense atmosphere, humans were able to fly with the aid of metal wings made of bits of the cannibalized spaceship.
Many generations later, among the scattered islands that make up the water world of Windhaven, no one holds more prestige than the silver-winged flyers, who bring news, gossip, songs, and stories. They are romantic figures crossing treacherous oceans, braving shifting winds and sudden storms that could easily dash them from the sky to instant death. They are also members of an increasingly elite caste, for the wings-always in limited quantity-are growing gradually rarer as their bearers perish.
With such elitism comes arrogance and a rigid adherence to hidebound tradition. And for the flyers, allowing just anyone to join their cadre is an idea that borders on heresy. Wings are meant only for the offspring of flyers-now the new nobility of Windhaven. Except that sometimes life is not quite so neat.
Maris of Amberly, a fisherman's daughter, was raised by a flyer and wants nothing more than to soar on the currents high above Windhaven. By tradition, however, the wings must go to her stepbrother, Coll, the flyer's legitimate son. But Coll wants only to be a singer, traveling the world by sea. So Maris challenges tradition, demanding that flyers be chosen on the basis of merit rather than inheritance. And when she wins that bitter battle, she discovers that her troubles are only beginning.
For not all flyers are willing to accept the world's new structure, and as Maris battles to teach those who yearn to fly, she finds herself likewise fighting to preserve the integrity of a society she so longed to join-not to mention the very fabric that holds her culture together.
Excerpt
Maris rode the storm ten feet above the sea, taming the winds on wide cloth-of-metal wings. She flew fiercely, recklessly, delighting in the danger and the feel of the spray, not bothered by the cold. The sky was an ominous cobalt blue, the winds were building, and she had wings; that was enough. She could die now, and die happy, flying.
She flew better than she ever had before, twisting and gliding between the air currents without thought, catching each time the updraft or downwind that would carry her farther or faster. She made no wrong choices, was forced into no hasty scrambles above the leaping ocean; the tacking she did was all for joy. It would have been safer to fly high, like a child, up above the waves as far as she could climb, safe from her own mistakes. But Maris skimmed the sea, like a flyer, where a single dip, a brush of wing against water, meant a clumsy tumble from the sky. And death; you don't swim far when your wingspan is twenty feet.
Maris was daring, but she knew the winds.
Ahead she spied the neck of a scylla, a sinuous rope dark against the horizon. Almost without thinking, she responded. Her right hand pulled down on the leather wing grip, her left pushed up. She shifted the whole weight of her body. The great silver wings -- tissue thin and almost weightless, but immensely strong -- shifted with her, turning. One wingtip all but grazed the whitecaps snapping below, the other lifted; Maris caught the rising winds more fully, and began to climb.
Death, sky death, had been on her mind, but she would not end like that -- snapped from the air like an unwary gull, lunch for a hungry monster.
Minutes later she caught up to the scylla, and paused for a taunting circle just beyond its reach. From above she could see its body, barely beneath the waves, the rows of slick black flippers beating rhythmically. The tiny head, swaying slowly from side to side atop the long neck, ignored her. Perhaps it has known flyers, she thought then, and it does not like the taste.
The winds were colder now, and heavy with salt. The storm was gathering strength; she could feel a trembling in the air. Maris, exhilarated, soon left the scylla far behind. Then she was alone again, flying effortlessly, through an empty, darkening world of sea and sky where the only sound was the wind upon her wings.
In time, the island reared out of the sea: her destination. Sighing, sorry for the journey's end, Maris let herself descend.
Gina and Tor, two of the local land-bound -- Maris didn't know what they did when they weren't caring for visiting flyers -- were on duty out on the landing spit. She circled once above them to catch their attention. They rose from the soft sand and waved at her. The second time she came around they were ready. Maris dipped lower and lower, until her feet were just inches above the ground; Gina and Tor ran across the sand parallel to her, each beside a wing. Her toes brushed surface and she began to slow in a shower of sand.
Finally she stopped, lying prone on the cool, dry sand. She felt silly. A downed flyer is like a turtle on its back; she could get on her feet if she had to, but it was a difficult, undignified process. Still, it had been a good landing.
Gina and Tor began to fold up her wings, joint by foot-long joint. As each strut unlocked and folded back on the next segment, the tissue fabric between them went limp. When all the extensors were pulled in, the wings hung in two loose folds of drooping metal from the central axis strapped to Maris' back.
"We'd expected Coll," said Gina, as she folded back the final strut. Her short dark hair stood out in spikes around her face.
Maris shook her head. It should have been Coll's journey, perhaps, but she had been desperate, longing for the air. She'd taken the wings -- still her wings -- and gone before he was out of bed.
"He'll have flying enough after next week, I expect," Tor said cheerfully. There was still sand in his lank blond hair and he was shivering a little from the sea winds, but he smiled as he spoke. "All the flying he'll want." He stepped in front of Maris to help her unstrap the wings.
"I'll wear them," Maris snapped at him, impatient, angered by his casual words. How could he understand? How could any of them understand? They were land-bound.
She started up the spit toward the lodge, Gina and Tor falling in beside her. There she took the usual refreshments and, standing before a huge open fire, allowed herself to be dried and warmed. The friendly questions she answered curtly, trying to be silent, trying not to think, This may be the last time. Because she was a flyer, they all respected her silence, though with disappointment. For the land-bound, the flyers were the most regular source of contact with the other islands. The seas, daily storm-lashed and infested with scyllas and seacats and other predators, were too dangerous for regular ship travel except among islands within the same local group. The flyers were the links, and the others looked to them for news, gossip, songs, stories, romance.
"The Landsman will be ready whenever you are rested," Gina said, touching Maris tentatively on the shoulder. Maris pulled away, thinking, Yes, to you it is enough to serve the flyers. You'd like a flyer husband, Coll perhaps when he's grown -- and you don't know what it means to me that Coll should be the flyer, and not I. But she said only, "I'm ready now. It was an easy flight. The winds did all the work."
Gina led her to another room, where the Landsman was waiting for her message. Like the first room, this was long and sparsely furnished, with a blazing fire crackling in a great stone hearth. The Landsman sat in a cushioned chair near the flames; he rose when Maris entered. Flyers were always greeted as equals, even on islands where the Landsmen were worshipped as gods and held godlike powers.
After the ritual greetings had been exchanged, Maris closed her eyes and let the message flow. She didn't know or care what she said. The words used her voice without troubling her conscious thought. Probably politics, she thought. Lately it had all been politics.
When the message ended, Maris opened her eyes and smiled at the Landsman -- perversely, on purpose, because he looked worried by her words. But he recovered quickly and returned her smile. "Thank you," he said, a little weakly. "You've done well."
She was invited to stay the night, but she refused. The storm might die by morning; besides, she liked night flying. Tor and Gina accompanied her outside and up the rocky path to the flyers' cliff. There were lanterns set in the stone every few feet, to make the twisting ascent safer at night.
Copyright © 1981 by George R. R. Martin
Copyright © 1981 by Lisa Tuttle
Reviews
Images
No alternate cover images currently exist for this novel.