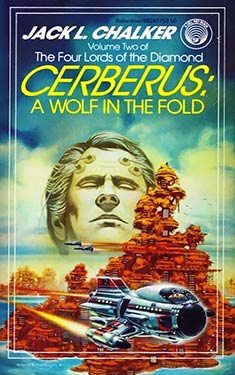 Cerberus: A Wolf in the Fold
Synopsis
"He" wakes up on a prison ship, and discovers that "he" is a copy. But he receives another shock, as he discovers that he is in a woman's body, a criminal named Qwin Zhang, who was mindwiped so that his recording could be inserted. He quickly learns that this is not an insurmountable problem, as the Warden powers on this planet are such that everyone has them, but it manifests itself as body swapping, a process that occurs when both parties are asleep. The Warden Organisms exchange information pertaining to memories and personality, so that if given sufficient time, the two sleepers will fully exchange bodies. The agent arranges to sleep next to a male during the newcomer orientation, and so has a male body again. He also learns that Cerberus is covered completely in water, with the only "land" being the tops of underwater trees that grow tall enough to extend beyond the water's surface.
Given that Cerberus is a world of white collar criminals, and that their technology is 20 years behind the times, "Qwin" can do quite well, and quickly establishes himself as "president" of a minor subsidiary of a large company. He does this with the help of Dylan Kohl, a boat captain, and Sanda Tyne, a host mother. Host mothering is an important profession, as the body swapping allows for people to live forever, so long as there are enough new bodies to swap with.
After a series of improbable adventures that gain him the position of company president, he attempts to carry out his mission of assassinating Wagant Laroo, the Lord of Cerberus. In the process of this, he comes across Dr. Dumonia, a psychologist who is later revealed to be a part-time Confederacy agent, though not especially loyal at all times. Qwin also learns that the human imitatingrobots are given human minds on Cerberus, specifically on Wagant's island. With the help of his friends, he manages to get on that island, and even arranges to come up with the solution to a problem of Wagant's.
The problem Wagant had was that the robots are better in every way, and nearly immortal and invulnerable. But Wagant does not want to put his mind into one, as the aliens who provide the robots have hidden commands in them that make the person the slave of the aliens. Not being able to get rid of those commands, Wagant accepts Qwin's help in getting rid of those commands. Qwin does so by asking his over-Agent in the picket ship to do so, which not only gets him in good with Wagant, but lets the Confederacy have a sample of the robot body and brain for examination.
Wagant, while very untrusting of Qwin, does eventually transfer his mind into the body of a "cleared" robot. What Wagant doesn't realize is that it wasn't quite fully cleared, and when Qwin recites a Lewis Carroll poem in front of him, it places Wagant under Qwin's complete control. Thus assassination is not necessary, as Qwin and Dumonia are in effect the rulers of Cerberus.
The book closes with the Agent in the picket ship feeling more concerned, as he saw himself change again, this time putting other people above his own needs and mission. This increases his turmoil and soul searching.
Excerpt
No excerpt currently exists for this novel. Be the first to submit one!

Submit an Excerpt
Reviews
There are currently no reviews for this novel. Be the first to submit one! You must be logged in to submit a review in the BookTrackr section above.
Images
No alternate cover images currently exist for this novel. Be the first to submit one!