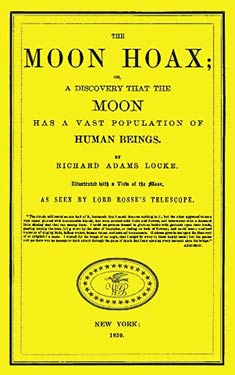 Synopsis
The Moon Hoax: or, A Discovery that the Moon Has a Vast Population of Human Beings.
"The Great Moon Hoax" refers to a series of six articles that were published in The Sun, a New York newspaper, beginning on August 25, 1835, about the supposed discovery of life and even civilization on the Moon. They were later collected into the book The Moon Hoax. The discoveries were falsely attributed to Sir John Herschel, one of the best-known astronomers of his time.
The story was advertised on August 21, 1835, as an upcoming feature allegedly reprinted from The Edinburgh Courant. The first in a series of six was published four days later on August 25.
The articles described fantastic animals on the Moon, including bison, goats, unicorns, bipedal tail-less beavers and bat-like winged humanoids ("Vespertilio-homo") who built temples. There were trees, oceans and beaches. These discoveries were supposedly made with "an immense telescope of an entirely new principle."
The author of the narrative was ostensibly Dr. Andrew Grant, the travelling companion and amanuensis of Sir John Herschel, but Grant was fictitious.
Eventually, the authors announced that the observations had been terminated by the destruction of the telescope, by means of the Sun causing the lens to act as a "burning glass," setting fire to the observatory.
Excerpt
"The clouds still rested on one hair of It, insomuch that I could discover nothing in it; but the other appeared to me a vast ocean planted with innumerable islands, that were covered with fruits and flowers, and interwoven with a thousand little shining seas that ran among them. I could see persons dressed in glorious habits with garlands upon their heads, passing among the trees, lying down by the sides of fountains, or resting on beds of flowers; and could hear a confused harmony of singing birds, falling waters, human voices, and musical instruments. Gladness grew in me upon the discovery of so delightful a scene. I wished for the wings of an eagle, that I might fly away to those happy seats; but the genius told me there was no passage to them except through the gates of death that I saw opening every moment upon the bridge."
Copyright © 1835 by Richard Adams Locke
Reviews
There are currently no reviews for this novel. Be the first to submit one! You must be logged in to submit a review in the BookTrackr section above.
Images
No alternate cover images currently exist for this novel.