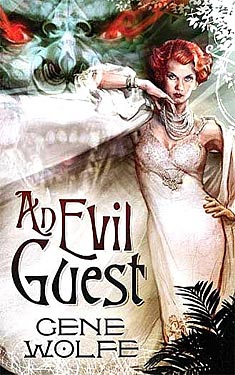 Synopsis
Lovecraft mets Blade Runner. This is a stand-alone supernatural horror novel with a 30s noir atmosphere. Gene Wolfe can write in whatever genre he wants -- and always with superb style and profound depth. Now following his World Fantasy Award winner, Soldier of Sidon, and his stunning Pirate Freedom, Wolfe turns to the tradition of H.P. Lovecraft and the weird science tale of supernatural horror.
Set a hundred years in the future, An Evil Guest is a story of an actress who becomes the lover of both a mysterious sorcerer and private detective, and an even more mysterious and powerful rich man, who has been to the human colony on an alien planet and learned strange things there. Her loyalties are divided--perhaps she loves them both. The detective helps her to release her inner beauty and become a star overnight. And the rich man is the benefactor of a play she stars in. But something is very wrong. Money can be an evil guest, but there are other evils. As Lovecraft said, "That is not dead which can eternal lie."
Excerpt
Chapter One
Washington
They sat at ease in the Oval Office. Had the president looked at his guest, he would have seen a handsome, ageless man, dark-haired, with a smooth oval face and a flawless olive complexion. Had he looked into this man's eyes, he would have seen the night looking out through a mask; it was because he had looked there once-and had not liked what he had seen-that he did not look again.
Had the president's guest looked at him, he would have seen a lean and hard-faced man of sixty-three who might have been a farmer or a county agent.
In point of fact, the president had been a rodeo rider whole decades ago. He still looked the part. Like all the best politicians, he looked like anything but a politician.
"They git you his picture?" the president asked.
His guest shook his head; on Earth, this guest was known as Gideon Chase. "Well, I'm glad." For a moment, the president's hard blue eyes glinted. "I got a bunch, an' I want to git 'em out of my desk. Give 'em to the FBI when you're through."
Gideon picked up the first and glanced at it. "Perfec'ly ordinary, ain't he, Dr. Chase?"
"There are no ordinary men, although so many believe themselves so."
"You're right, he ain't. He's ordinary lookin' is what I mean."
Gideon shook his head and tapped the figure in the photograph with a fingernail, at which the figure said, "Woldercan's a beautiful place, one I'm sure I'll miss often. But right now retirement looks awfully good to me and I'm heading for the South Seas."
"A perfec'ly ordinary-lookin' man, but if I was asked to name one evil man in our entire nation, an' if the fate of the whole damned U.S.A. was ridin' on my answer-well, sir, I'd name him."
The president waited for Gideon to speak, but Gideon did not.
"Brought up in the buildin' trade. His pa was a contractor. Become a contractor hisself, an' was smart enough to see the big money went to them that had friends in high places. You want to bellyache about it? I have, more'n once. Don't do any good." "There is no good," Gideon murmured. His voice was level, expressionless.
The president raised an eyebrow. "I know you made a reputation writin' that shit. You really believe it?"
"My belief or disbelief will not change the truth," Gideon murmured.
The president grinned. " 'What's truth?' said jestin' Pilate."
"That there is no good."
"Well, sir... what about evil?"
"It does not exist."
"Well now, I'd call that hombre whose picture you're lookin' at evil. If there's a evil man in the world, he's the one."
Gideon, who was not in fact looking at any of the pictures, said, "There are none." The president smiled again. "I wish I could believe it. It'd be comfortin'. Only I s'pose I'd have to give up good, too. "
"No. May I explain? You can't have a great deal of time."
"For this? I'll take as much time as I think will do any good, an' let the bastards go hang. Explain."
"Briefly, then. Today, most people think evil the mere absence of good. Darkness-which many confuse with evil-is the mere absence of visible light, after all, just as silence is the absence of audible sound. If these people were correct, there would be no evil, only a lack of good. They are wrong, and when they discover they are wrong, they leap to the opposite error. "
"Mine, " the president said.
"Yes. Would you say that evil is synonymous with cruelty? With greed?"
The president nodded. "I sure would."
"Then you cannot be correct. Cruelty and greed are very different things. Cruelty is delight in the pain of others. Greed is an insatiable desire to possess. You do not like the result of either one-unless the greed and cruelty are your own. You avenge yourself upon them by calling them evil. There is no difference in kind between your position and that of a woman who shouts "bad dog" when the puppy soils the carpet. The difference is in degree. Only."
The president pressed a button on his desk. "I think we'd best git down to business."
Gideon nodded. "So do I."
"I talked to you the way I did, 'cause I wasn't sure you was the right man for this job. You are. A wizard's what people call you, an' if anybody's qualified for this, you're the one."
Gideon rarely smiled and did not smile now, though there may have been a gleam of humor in his disturbingly dark eyes. "The only evil man meets the only qualified man, " he whispered. "Not really-come in, John! I said if there was only one evil man in the whole world, it'd have to be Bill Reis. There's a hell of a lot of evil men in the world."
"Three in particular," the man the president called John added.
"We haven't gotten to that yet, John, an' I don't think we will." The president motioned toward a chair. "Sit down."
"My error, Mr. President. I didn't know you were excluding the Senate." John was forty plus, and starting to get fat. The thick, round lenses of his glasses gave the impression of blindness.
"Explain our problem," the president told him. "Our problem with Bill Reis."
"Sure. Do you know who he is, Dr. Chase? That will save some time."
Gideon shook his head.
"He was a major contributor to President Ingstrup's first campaign. Also to his second, though that doesn't really come into it. Major contributors are often given ambassadorships. Perhaps you're aware of that."
"My father was an ambassador," Gideon remarked. "He was the U.S. ambassador to the only intelligent nonhumans known to science...." He paused. "To the Wolders," John said.
"There were older sciences," Gideon murmured, "to which other intelligent races were known. So I've heard. But, yes. He was ambassador to Woldercan, as you say. I was born there. No doubt you know."
"We do. That was one of the reasons I suggested the president consult you. It wasn't the chief reason but it figured in our thinking."
"Perhaps you might like to tell me the chief reason." Gideon swept the remaining pictures toward him as he spoke.
"Your reputation. You specialize in solving problems every other expert declares are impossible or outside his area. You're expensive, we realize-"
"Not as expensive as government." Gideon was looking at the pictures as he spoke, glancing at each in turn, then laying it facedown on the president's desk, his hands sure and swift.
John laughed. "You've got us there. Of course not. But expensive. You'd have the entire cooperation of the Federal Bureau of Investigation."
"You can commit them?"
"Yes. You would be an adjunct to our investigation."
"How flattering." Gideon's gleam returned. "If I were to-"
The president interrupted. "Your dad was a patriot. I didn't know him personally, but I've talked to some that did. He served this country ably as a private citizen an' a diplomat. None of the people I talked to said you were much like him, but I've found out that every man in the world gits certain traits from his folks. As I told John, your not resemblin' your father on the surface tells me you'll be like him down deeper."
Nodding, Gideon swept the photographs into a neat stack and pushed the stack away.
"We can't give you a lot of money," John said, "but we have other ways of rewarding people who help us. You would be recommended to friends of the president's who might make use of you. If you'd enjoy a professorship at one of our leading universities..."
"I'd like to know what this man Reis has done," Gideon murmured. "Well, think it over, Dr. Chase. You have a Ph.D., don't you? Some private college in Massachusetts?"
Gideon nodded.
"There you are. It would be easy. A professorship at Harvard or Princeton could be readily arranged. It would involve very little actual work and would convey a great deal of prestige."
"What has Reis done?" Gideon spoke to the president, not to John.
"He's a spy," the president said, "an' that's just for starters. We can't nab him 'cause we got no evidence. But he travels around. He stops at sensitive spots. He don't stay long, but soon afterward our sources in-well, never you mind. In a certain foreign country, okay? They tell us certain people there have got holt of somethin' we were tryin' to hold close to our vests." Gideon shrugged. "Have him killed."
"Not 'til we find out how he does it."
John said, "He's found a .aw in a security system we thought just about flawless-not something he can exploit now and then, but something he can exploit whenever he chooses. We've got to know what it is."
"That he can exploit," Gideon murmured, "only when he is in close proximity to the facility in which your secret operations are being carried out." "He's a blackmailer, too," the president said. "We know that." "For money?" Gideon's gaze roved the room.
"Sometimes." John cleared his throat. "More often for other things. Sexual favors, at times. Introductions and information."
Gideon said, "You will have considered that he may be blackmailing someone at each of the industrial plants and laboratories he visits. They are plants or laboratories? Most of them? May I assume that?"
"He would have to meet with them, or telephone them at least," John said. Gideon looked amused. "E-mail them? Write letters? What about carrier pigeons?"
The president's hand came down on his desk with a resounding smack. "This ain't .t for humor."
"Then you shouldn't tempt me to it. Neither of you should, and both of you have." Gideon leaned back in his chair. "You'll be listening in on telephone calls. Data mining? Isn't that what you call it? You'd pick it up. You're certainly tapping the lines of those laboratories or whatever, as well as the telephones of everyone privy to sensitive information. If you prattle about cell phones now, I shall go home. I'm beginning to miss my little apartments already."
John murmured, "Just assume that we're already doing everything every ordinary person would think of. Because we are. Assume, too, that...
Copyright © 2008 by Gene Wolfe
Reviews
Images
No alternate cover images currently exist for this novel.