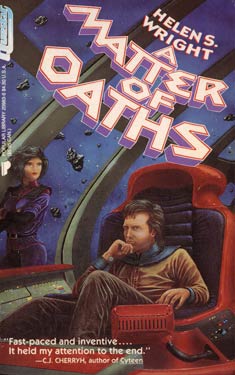 Synopsis
Rafe is a member of the Guild of Webbers, the individuals who make space travel possible by using an implanted web to directly interface their minds to the ship's systems. Webbers must work in teams and trust is important. Unfortunately for Rafe, he's been identity-wiped (a fate usually reserved for criminals,but he has no apparant record) and no one wants to risk trusting him. Commander Rallya needs another qualified webber and takes Rafe on with some reservations. These reservations soon turn to concern --not over Rafe's competency, because he knows more tricks than he should for his rank--but Rafe apparantly has unremembered enemies from both empires who think nothing of arranging to get rid of Rallya's ship! Why do highly placed officials on both sides of the unofficial "cold" war want Rafe and anyone next to him dead? What does he know but can't remember? Who is he? Rallya and her crew must unlock a conspiracy in Rafe that involves both empires.
Excerpt
No excerpt currently exists for this novel. Be the first to submit one!

Submit an Excerpt
Reviews
Images
No alternate cover images currently exist for this novel. Be the first to submit one!