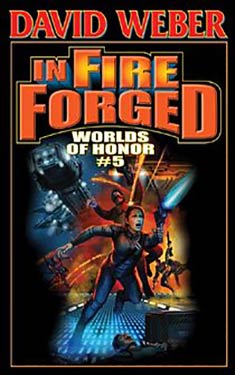 Synopsis
This is the fifth anthology of stories set in the Honorverse. The stories in the anthologies serve to introduce characters, provide deeper, more complete backstory and flesh out the universe of the main series. David Weber, author of the mainline Honor Harrington series, serves as editor for the anthologies, maintaining fidelity to the series' canons.
Table of Contents:
"Ruthless": this shortfiction by Jane Lindskold continues the story of Michael, Judith and Ruth which started in "Promised Land". While speaking to a woman from Human Services outside her apartment, Judith Newland's daughter disappears -- taken hostage to be used as leverage against Prince Michael Winston.
"An Act of War": this shortfiction by Timothy Zahn is a sequel to "With One Stone" from Service of the Sword. Charles Dozewah, aka Charles Navarre, is on the People's Republic of Haven to arrange a sale of something that could help with the war against Manticore. Before he can complete the deal, Charles is arrested by State Security. As always when Charles is involved, everything isn't as it seems.
"Let's Dance!": this shortfiction by David Weber features a mob of space pirates who make the fatal mistake of taking on a young Manticorean Royal Navy commander who goes by the name Harrington.
"An Introduction to Modern Starship Armor Design": essay by Andy Presby
Appendix: Armor Design Figures - interior artwork by William H. Edwards and Thomas Pope and Thomas Marrone
Excerpt
No excerpt currently exists for this novel.
Reviews
Images
No alternate cover images currently exist for this novel.