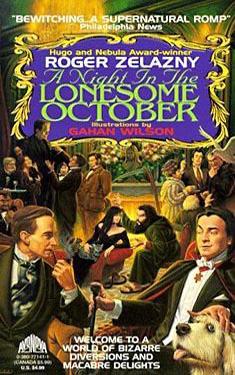 A Night in the Lonesome October
Synopsis
Snuff is a watchdog, and together with his master they walk the streets of Soho at night looking for evil. Halloween is a particulary busy time for them, as well as for Greymalk the cat, Nightwind the owl and for all the other animals, as they accompany their various masters about their business.
Excerpt
October 23
Then I heard it -- Dzzp! -- a high-pitched whine descending to a low throb in about three seconds each cycle. It is above the range of the human ear, and it accompanies the main curse, circling at a range of about a hundred fifty yards initially. Dzzp!
"First, I will remove the left rear leg," began the beefy man as he reached for a scalpel.
The others drew near, reaching after other instruments and holding them ready for him.
Dzzp! The circle might well be smaller by now, of course.
There came a loud pounding upon an outer door.
"The devil!" said the beefy man.
"Shall I see who 'tis?" asked the smaller man.
"No. We're operating. He can come back if it's important."
Dzzp!
It came again, more heavily; this time it was obviously the sound of someone kicking upon the door.
"Inconsiderate lout!"
"Ruffian!"
"Churl!"
Dzzp!
The third time that the knocking occurred it seemed as if each blow were performed by a strong man striking his shoulder against the door, attempting to break it down.
"What cheek!"
"Per'aps I should 'ave words with 'im."
"Yes, do."
The shorter man took a single step toward the entrance when a splintering sound reached us from the next room, followed by a loud crash.
Dzzp!
Heavy footsteps crossed the outer room. Then the door immediately across from me was flung open. Jack stood upon the threshold, staring at the cages, the vivisectionists, myself upon the table. Graymalk peered in from behind him.
"Just who do you think you are, bursting into a private laboratory?" said the beefy man.
"...Interrupting a piece of scientific research?" said the tall man.
"...And damaging our door?" said the short man with the wide shoulders and large hands.
I could see it now, like a black tornado, surrounding Jack, settling inward. If it entered him completely he would no longer be in control of his actions.
"I've come for my dog," he said. "That's him on your table."
He moved forward.
"No, you don't, laddie," said the beefy man. "This is a special job for a special client."
"I'll be taking him and leaving now."
The beefy man raised his scalpel and moved around the table.
"This can do amazing things to a man's face, pretty boy," he said.
The others picked up scalpels, also.
"I'd guess you've never met a man as really knows how to cut," the beefy one said, advancing now.
Dzzp!
It was into him, and that funny light came into his eyes, and his hand came out of his pocket and captured starlight traced the runes on the side of his blade.
"Well-met," Jack said then, through the teeth of his grin, and he continued to walk straight ahead.
Copyright © 1993 by Roger Zelazny
Reviews
Images
No alternate cover images currently exist for this novel.