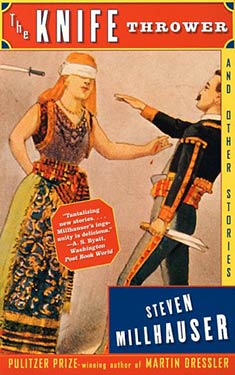 The Knife Thrower and Other Stories
Synopsis
The Knife Thrower introduces a series of distinctively Millhauserian worlds: tiny, fabulous, self-enclosed, like Fabergé eggs or like the short-story genre itself. Flying carpets; subterranean amusement parks; a band of teenage girls who meet secretly in the night in order to do "nothing at all"; a store with departments of Moorish courtyards, volcanoes, and Aztec temples: these are Millhauser's stock-in-trade as a storyteller, and he employs them to characteristically magical effect. As in Millhauser's other books, including Edwin Mullhouse and the Pulitzer Prize-winning Martin Dressler, his subject is nothing less than the faculty of imagination itself. Here, however, the flights of fancy are unencumbered by Martin Dressler's wealth of period detail, and the result is fun-house prose whose pleasures and terrors are equally gossamer. Millhauser possesses the unique ability to render the quotidian strange, so that, emerging from his stories, the reader often feels the world itself an unfamiliar place--as do the shoppers at his department store, that marketplace of skillful illusion: "As we hurry along the sidewalk, we have the absurd sensation that we have entered still another department, composed of ingeniously lifelike streets with artful shadows and reflections--that our destinations lie in a far corner of the same department--that we are condemned to hurry forever through these artificial halls, bright with late afternoon light, in search of the way out."
Table of Contents:
The Knife Thrower - (1997)
A Visit - (1997)
The Sisterhood of Night - (1994)
The Way Out - (1991)
Flying Carpets - (1997)
The New Automaton Theatre - (1998)
Clair de Lune - (1998)
The Dream of the Consortium - (1993)
Balloon Flight, 1870 - (1997)
Paradise Park - (1993)
Kaspar Hauser Speaks - (1998)
Beneath the Cellars of Our Town - (1998)
Excerpt
No excerpt currently exists for this novel. Be the first to submit one!

Submit an Excerpt
Reviews
There are currently no reviews for this novel. Be the first to submit one! You must be logged in to submit a review in the BookTrackr section above.
Images
No alternate cover images currently exist for this novel. Be the first to submit one!