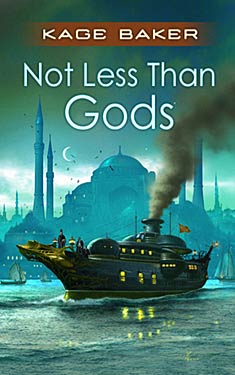 Synopsis
Recently returned from war, young Edward Anton Bell-Fairfax is grateful to be taken under the wing of the Gentleman's Speculative Society. At the Society, Edward soon learns that a secret world flourishes beneath the surface of London's society, a world of wondrous and terrible inventions and devices used to tip the balance of power in a long-running game of high-stakes intrigue. Through his intensive training Edward Anton Bell-Fairfax, unwanted and lonely boy, becomes Edward Anton Bell-Fairfax, Victorian super-assassin, fleeing across the Turkish countryside in steam-powered coaches and honing his fighting skills against clockwork opponents.
As Edward travels across Europe with a team of companions, all disguised as gentleman dandies on tour, he learns more about himself and the curious abilities he is gradually developing. He begins to wonder if there isn't more going on than simple international intrigue, and if he and his companions are maybe part of a political and economic game stretching through the centuries. But, in the end, is it a game he can bring himself to play?
Edward Anton Bell-Fairfax, the idealistic assassin. Perhaps the most dangerous man alive.
Excerpt
1824: Daughter of Elysium Lady Amalthea R. was a trial to her father, and considered something of an adventuress by the rest of polite society. She reveled in the distinction. Having been told to go straight to Hell by her enraged parent after refusing what would have been a respectable and advantageous marriage, Lady Amalthea chose instead to take a small house near Hyde Park. She was .nancially independent, having inherited certain sums from her late mother, and so set herself up in an establishment with her deaf and ancient nurse, Mrs. Denbigh. Attendant also were a handsome butler, a more handsome footman, a gardener so handsome he might have posed for Michelangelo, and a quite plain maid of all work.
By the time Lady Amalthea had reached her mid-twenties, she was well established as a ruined woman. The fact that she was strikingly beautiful, with the looks of a slender valkyrie, guaranteed that she never wanted for company anyway. She dabbled in politics, was given to radicalism of the deepest dye, and her bitterest regret was that she had failed to seduce Lord Byron before he decamped for the Continent. When Mary Wollstonecraft Shelley was widowed, Lady Amalthea wrote her reams of consolatory advice and insisted on hosting a dinner party in her honor when that exhausted lady returned to England.
Lady Amalthea belonged as well to several Societies, scienti. c, philosophical and musical especially. It chanced therefore that one smoky eve ning at the end of October 1824 she made her way to the house of a similarly notorious lady to hear an excerpt from Beethoven's new symphony, his Ninth. The entire work was scheduled for its of. cial London premiere the following March, but an enterprising member of the Philharmonic Society of London had adapted the choral movement for two pianofortes and four singers.
Lady Amalthea arrived as punch was being served out, and circulated for a while chatting with others in her dazzling and disreputable set, as Mrs. Denbigh wandered after her like an amiable little dog. There were young intellectuals, feminists, politicians, musicians, even an actor or two, and one gentleman to whom her eye was particularly drawn. He was lean, saturnine, darkly handsome, reminding her rather of a clean-shaven Mephistopheles, and this alone would have been enough to pique her interest in him. However, the more Lady Amalthea saw of the gentleman, the more she was convinced she'd seen him somewhere before.
When they entered the ballroom, furnished with chairs for the performance, she was pleased to note that he took his seat near hers. He caught her eye, smiled and nodded, with a certain quizzical lift of eyebrow that made her heart race pleasantly. All thought of potential trysts .ed from Lady Amalthea, however, when she glanced down at the lyric translation sheet she had been handed.
Schiller's sentiments charmed her, appealed to her sense of idealism. That the beggar and the Prince might be brothers! Heroes striving toward noble conquest! A benign and starry universe in which universal liberation waited! And then the music began...
Lady Amalthea sat bolt upright, spellbound. Her eyes were bright, her lips moist, her breath came quickly. Even Mrs. Denbigh nodded along in what she perceived to be time. When the glorious music ended, Lady Amalthea sagged backward in her chair, panting, one hand on her bosom, quite overcome. Had the composer been present, he would most certainly have been embraced by Lady Amalthea, and there and then invited back to her boudoir.
Unable to confer such favor, Lady Amalthea settled for milling about afterward, excitedly discussing the symphony with her acquaintances. She made discreet inquiries as to whether the tenor or baritone might be interested in coming home with her for a cup of cocoa, only to discover that Lady Maria P. and Mrs. H. had beaten her to them; but so elevated were her spirits still, in the music's afterglow, that Lady Amalthea was yet smiling as she took her leave and swept out, Mrs. Denbigh trotting behind her.
Here, however, fate took an odd turn with Lady Amalthea. Her footman appeared, sweating and muddy, to inform her that both rear wheels had unaccountably fallen off her carriage. Even as she was registering this, a gentleman's suave voice spoke next to her ear, offering her a seat in his own conveyance. Lady Amalthea turned and came face-to-face with the dark gentleman, who bowed and kissed her hand.
He identi.ed himself as Dr. Nennys, reminding her that they had been introduced at a supper party some months previous. Lady Amalthea was happy to accept his generous gesture on her own and Mrs. Denbigh's behalf. He gave them sips from a small vial of brandy concealed in his walking-stick, against the eve ning's chill, and chatted with her about Beethoven as they waited for his coach to be brought. In short order both Lady Amalthea and Mrs. Denbigh were comfortably seated in Dr. Nennys's coach. He bowed, wished them a good night, and shut the coach door. They rolled away into the darkness. Lady Amalthea remembered glimpsing a pair of All Hallows' Eve bon. res low- .ickering, burning down to coals at the bottom of the drive.
And that was the last thing Lady Amalthea remembered with any clarity.
There was a confused dream, to be sure, dimly recalled afterward: she was in her private chamber with Beethoven, and he was a glorious giant, a hero, of godlike physique, profoundly amorous. Oddly enough, the act of love itself was a little chilly and awkward, even uncomfortable. There was a sense of indignity. But the music welled up and . oated her away to bliss, fully orchestrated, and the soloists had the voices of angels. Lady Amalthea wept for happiness at the spirituality of it all.
Pleasure was given even to the Worm, and the Cherub stands before God...
She woke, warm and rosily content, in a bed; but not her own. Lady Amalthea rolled over and stared in some confusion at the Honorable Henry B., with whom she had carried on sporadic amorous relations during the past year, though not as recently as her equally passionate relations with Lord F. or Pratt the gardener. Confusion gave way to horror as Lady Amalthea spotted the Honorable Mrs. B. lying just the other side of her husband; but Lady Amalthea's consternation was as nothing to the Honorable Henry B.'s, when he opened his eyes and saw his erstwhile mistress lying beside him, fully clothed.
Frantic inquiries and denials were hissed back and forth sotto voce. A discreet exit was somehow contrived, both parties white and shaking, as Mrs. B. slept on untroubled. Lady Amalthea was obliged to take a hackney coach to her own residence, where she found Mrs. Denbigh peacefully unconscious on her bed, though likewise fully clothed. When roused, and made to understand that something was amiss, Mrs. Denbigh was unable to provide any details about anything that had passed the previous evening.
So it was with some alarm, two days thereafter, that Lady Amalthea heard that Dr. Nennys had come to call upon her. She met him with trepidation well concealed, however. He greeted her with the utmost courtesy, apparently much concerned. His coachman had informed him that, upon the night of the concert, Lady Amalthea had ordered him to drive her to Lord F.'s residence and there leave her, with the request that Mrs. Denbigh should be taken on to the house by Hyde Park. Dr. Nennys wished to be assured that nothing improper had taken place. Lady Amalthea assured him that nothing had, and he took his leave.
Yet by Twelfth Night, Lady Amalthea had determined beyond all doubt that something improper had certainly taken place with someone, though whether with Lord F., the Honorable Henry B., or indeed Pratt the gardener was anyone's guess.
Lady Maria P. was able to provide Lady Amalthea with excellent practical advice, having been in such circumstances herself. Lady Amalthea shortly announced her departure for an extended tour of the Continent, and retired instead, under an assumed name, to a private establishment in the country. On the .rst of August she was delivered of a vigorous boy. Consigning him into the hands of the proprietress of the establishment, Lady Amalthea packed her bags, returned to London, and never troubled herself to think of the matter again.
Copyright © 2010 by Kage Baker
Reviews
There are currently no reviews for this novel. Be the first to submit one! You must be logged in to submit a review in the BookTrackr section above.
Images
No alternate cover images currently exist for this novel. Be the first to submit one!