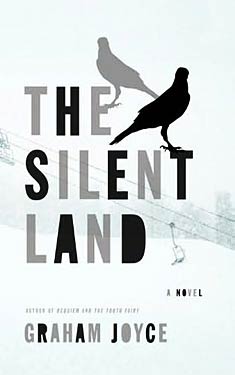 The Silent Land
Author:
Graham Joyce

Publisher:
Ballantine Books, 2011
Gollancz, 2010

Series:

This book does not appear to be part of a series. If this is incorrect, and you know the name of the series to which it belongs, please let us know.

Submit Series Details

Book Type:
Novel
Genre:
Science-Fiction
Sub-Genre Tags:
Awards:
Lists:
Links:
Avg Member Rating:

(29 reads / 18 ratings)
Synopsis
Award-winning novelist and cult favorite Graham Joyce transports readers to a mysterious world of isolation and fear with a hypnotically dark story about a young couple trapped by an avalanche in the remote French Pyrenees... a daring and powerful novel about love, loss, and rebirth.
In the French Pyrenees, a young married couple is buried under a flash avalanche while skiing. Miraculously, Jake and Zoe dig their way out from under the snow-only to discover the world they knew has been overtaken by an eerie and absolute silence. Their hotel is devoid of another living soul. Cell phones and land lines are cut off. An evacuation as sudden and thorough as this leaves Jake and Zoe to face a terrifying situation alone. They are trapped by the storm, completely isolated, with another catastrophic avalanche threatening to bury them alive... again. And as the couple begin to witness unsettling events neither one can ignore, they are forced to confront a frightening truth about the silent land they now inhabit.
Award-winning author Graham Joyce has written a mysterious masterpiece, a tour de force that will thrill fans of Peter Straub and the hit television show Lost.
Excerpt
one

It was snowing again. Gentle six-pointed flakes from a picture book, settling on her jacket sleeve. The mountain air prickled with ice and the savor of pine resin. Zoe pulled the air into her lungs, feeling the cracking cold of it before letting go. And when the mountain peak seemed to nod and sigh back at her, she almost thought she could die in that place, and happily.

If there are few moments in life that come as clear and as pure as ice, when the mountain breathed back at her, Zoe knew she had trapped one such moment and it could never be taken away. Everywhere was snow and silence. Snow and silence; the complete arrest of life; a rehearsal for and a pre-echo of death.

But her breath was warm and it said no to any premature thought of death. She pointed her skis down the hill. The tips of her skis looked like weird talons of brilliant red and gold in the powder snow as she waited, ready to swoop. I am alive. I am an eagle. Nearly two miles below lay the dark outline of Saint-Bernard-en-Haut, their Pyrenean resort village; across to the west, the irregular humps and horns of the mountain range. The sun was up now; in a few minutes there would be more skiers to break the eerie morning spell. But right now they had the powder and the morning entirely to themselves.

There was a whisper behind her. It was the effortless track of Jake's skis as he came over the ridge and caught up with her.

He cruised to an elegant stop beside her. In contrast to her fashionable ski suit of lilac and white he wore black, and the morning sun burst on his bulbous black sunglasses in an iridescent flare. He stood still, sharing the moment with her. She fancied she could see his breath rising from him like a faint oyster-colored mist. He took off his sunglasses and blinked back at her. Jake had close-cropped black hair and baby-blue peepers that she'd fallen in love with instantly, even if his large ears had taken her a little longer. A single, enormous snowflake floated onto his eyelashes.

Jake fractured the silence with a whoop of pure pleasure. "Whooo-hooooo!!!!" He held his ski poles aloft and offered his dancing behind to the mountain. The sound of his shriek echoed around the crags, a celebration and a violation of nature all at the same time.

"You shouldn't do that. You don't show your ass to the mountain," Zoe said.

"And why not? I like my ass."

"I don't know why," she said playfully. "You just don't."

"Couldn't help myself. This is perfection."

It was. It was flawless. Immaculate, shrink-wrapped perfection on sticks.

"You ready to go?" she asked.

"Yep. Let's do it."

Zoe was the more accomplished skier of the two. Jake could be faster, but in a reckless way—skiing right at the razor edge of his ability. She could always thrash him over a distance. To ski down to the village without a pause would take minutes. An hour and a half to get up on the combination of chair- and drag lifts, and fifteen minutes to get down. They'd gotten up early to beat the vacationing hordes for this first run of the morning. Because this—the tranquillity, the silence, the undisturbed powder, and the eerie feeling of proximity to an eagle's flight—was what it was all about.

Jake hit the west side of the steep but broad slope and she took the east, carving matching parallel tracks through the fresh snow. Her skis whispered to the powder in thrilling intimacy as she plunged down the slope. Just the sound coming from her own skis was like having some creature or supernatural being racing behind her, trying to speak a story into her ear.

But at the edge of the slope, near the curtain of trees, she felt a small slab of snow slip from underneath her. It was like she'd been bucked, so she took the fall line to recover her balance. Before she'd dropped three hundred meters the whisper of her skis was displaced by a rumble.

Zoe saw at the periphery of her vision that Jake had come to a halt at the side of the trail and was looking back up the slope. Irritated by the false start they'd made, she etched a few turns before skidding to a halt and turning to look back at her husband. The rumble became louder. There was a pillar of what looked like gray smoke unfurling in silky banners at the head of the slope, like the heraldry of snow armies. It was beautiful. It made her smile.

Then her smile iced over. Jake was speeding straight toward her like a dart. His face was rubberized and he mouthed something as he flew at her.

"Get to the side! To the side!"

She knew now that it was an avalanche. Jake slowed, batting at her with his ski pole. "Get into the trees! Hang on to a tree!"

The rumbling had become a roaring in her ears, drowning Jake's words. She pushed herself down the fall line, scrambling for traction, trying to accelerate away from the roaring cloud breaking behind her like a tsunami. Jagged black cracks appeared in the snow in front of her. She angled her skis toward the side of the slope, heading for the trees, but it was too late. She saw Jake's black suit go bundling past her like clothes in a dryer as he was turned by the great mass of smoke and snow. Then she too was punched off her feet and carried through the air, twisting, spinning, turning in the whiteout. She remembered something about spreading her arms around her head. For a few moments it was like being agitated inside a barrel, turned head over heels a few times, until at last she was dumped heavily in a rib-cracking fall. Then there came a chattering noise, like the amplified jaws of a million termites chewing on wood. The noise itself filled her ears and muffled everything, and then there was silence, and the total whiteness faded to gray, and then to black.





Total silence, total darkness.

She tried to move but couldn't. Then she felt herself choking, because her mouth and her nostrils were packed with snow. She hawked some snow out of her throat. She felt the snow trickling cold at the back of her nasal passage. She coughed again and was able to gasp a lungful of air.

She had expected to come around in the whiteness of snow, but everything was black. She could breathe, but could barely move. She flexed her fingers inside her leather ski gloves. There was micro-movement. She sensed her hands were locked in position about a foot in front of her face. Her fingers were splayed wide inside the gloves. She tried to wriggle her fingers but nothing would move beyond that micro-flexing inside the glove. She stuck out her tongue and felt cold air.

Zoe heaved her body with no result, and instantly descended into a panic in which she was hyperventilating and feeling the booming of her own heart. Then it occurred to her that she might have only a pocket of trapped air to depend on, and so she slowed her breathing down. She told herself to be calm.

You're in a snow tomb, be calm.

She breathed gently. Her heart stopped banging.

A snow tomb? You think that's good?

There was almost a split inside herself as the part of her that wanted to succumb to panic argued with the side that knew if she wanted to survive she should stay composed.

Are you calm now? Are you? Are you? Right, when you are calm, call for your husband. He will come.

"Jake!"

She shouted his name, twice. Her voice sounded alien, distant, muffled, like something down a poor telephone line. She figured that her ears were plugged tight with snow.

She flexed her fingers again and still nothing gave way. She tried every joint, like a warm-up exercise in the gymnasium, starting with her toes, moving on to her ankles and her knees, hips, elbows, shoulders. There was no relief. The snow had packed her hard.

There was a tiny movement at her neck. That and the clear space in front of her mouth made her think that her instinct to fold her arms in front of her face had saved her thus far. She figured that she'd made an air pocket.

Call him again. He will come.

"Jake!"

You're going to die. In a snow tomb.

She didn't even know which country she was going to die in. They were right on the mountain border between France and Spain and the local people spoke a language that belonged to neither. She remembered that the Pyrenees were named for a tomb by the ancient Greeks.

No, you're not in a tomb. You're going to get out. Call him again.

Instead of calling again she tried to move the fingers of her left hand, one by one. Her thumb and forefinger were paralyzed, as was her middle finger, but as she pressed with her ring finger she sensed a minute crumbling and a tiny movement in one fingertip. Something infinitesimal gave way, and she was able to retract her finger perhaps a centimeter. The movement was matched by a painful strontium flare at the back of her retinas. Then a rainbow of sparks. Then blackness again.

But the message of tiny movement flew from the nerves in her finger to quicken her heartbeat.

Calm. Calm.

She continued to work her ring finger and after a while she found she could move it against her middle finger in a scissor motion. She exercised this scissor movement between her wedding finger and her middle finger. That's right; you're cutting your way out. Snip snip snip. Good girl. Cutting yourself free.

She had no idea how long she would be able to breathe, how much air she had. She tried to be economical with her breathing, keeping it shallow, sipping at the air. Her head was banging with pain.

She continued to try to scissor away at the snow around her fingers until the muscles in her fingers cramped. She rested them, flexed them, and began again. Snip snip snip. Good girl.

And with no prospect of movement, something suddenly fell away and her other fingers became free, until she was able to flex all of them, back and forth. Then she felt her moving fingers brushing the side of her face.

Now she made tiny karate-chopping motions with the upper digits of her newly flexible fingers, trying to find her other hand, hoping it had also come to rest close to her face. She was able to extend into and retract from the small space she had made. At last the free hand made contact with the other one. She worked away until she was able to lay the palm of her free hand over the back of the other. Then she pushed back into the snow, full force. Her first guess had been about right. She'd cradled a small pocket of air in front of her. She still had no idea how long this air would last. A minute? Three minutes? Ten minutes?

Don't think about that. Good girl.

She tried to wriggle her hand out of the glove, knowing her fingernails would make the best tools for scraping her way out. But the gloves were strapped tight at the wrist to prevent the entry of snow. In the immovable dark she tried to loosen the right wrist strap, but the gloved fingers weren't sensitive enough to allow her to grab it.

Perhaps Jake would come. Unless he too was trapped. Perhaps someone else would come. Perhaps they had helicopters circling overhead even as she thought these things. But no one else had been on the slope. It was likely that if the avalanche had been quite small no one would even know that it had happened.

Tomb. Greeks. Pyre means fire. You know. You know. Pyrenees. Shut up shut up.

"Jake!"

Her voice sounded a little louder in her own ears this time; but it also sounded helpless.

She tried again to grab at her wrist strap in the blackness. She heard the sound of Velcro parting, and the strap loosened. Grabbing the tip of her right glove with her left hand she managed to inch it off. There was nowhere for the glove to go: the thing was scratching her face, but she released it anyway and began to scrape with her fingernails at the snow just above her head.

Her breathing was coming shorter now. She was scratching at the packed snow but making no progress. The snow came free but didn't move. It had nowhere to go. She scratched harder.

She coughed again. There was something trickling at the back of her throat, making her cough. Then she stopped scratching and focused on the trickling. The fluid, melted snow or saliva or whatever it was, was running from her nose into her throat. Instead of snot falling from her nose it was running backward. She had a sudden, panicked realization.

You are upside down.

She knew now with absolute certainty that she had been buried upside down and vertically. Her feet were nearest to the surface of the snow, not her head. This meant that by scratching on the snow she'd been digging down, deeper into the snow, not up and out. That was why the snow wasn't flaking free. She'd been digging the wrong way.

She tried flexing her toe inside her boot. It moved a fraction, but the snow around her leg was packed too hard to let her move her leg. She inched her ungloved hand to her neck and found she could reach her hand through the snow to her chest. By scratching she could push her hand to her hip, and the snow fell in clumps toward her face. Then her hand hit a solid object.

It was her ski pole.
Copyright © 2010 by Graham Joyce
Reviews
Images
No alternate cover images currently exist for this novel. Be the first to submit one!