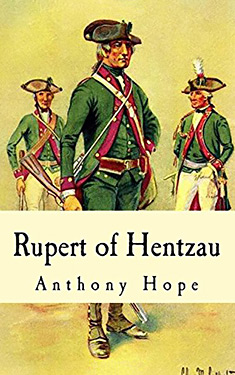 Synopsis
Rupert of Hentzau is a sequel by Anthony Hope to The Prisoner of Zenda.
The story is set within a framing narrative told by a supporting character from The Prisoner of Zenda. The frame implies that the events related in both books took place in the late 1870s and early 1880s. This story commences three years after the conclusion of Zenda, and deals with the same fictional country somewhere in Germanic Middle Europe, the kingdom of Ruritania. Most of the same characters recur: Rudolf Elphberg, the dissolute absolute monarch of Ruritania; Rudolf Rassendyll, the English gentleman who had acted as his political decoy, being his distant cousin and look alike; Flavia, the princess, now queen; Rupert of Hentzau, the dashing well-born villain; Fritz von Tarlenheim, the loyal courtier; Colonel Sapt, the King's Bodyguard; Lieutenant von Bernenstein, the loyal soldier.
Excerpt
A man who has lived in the world, marking how every act, although in itself perhaps light and insignificant, may become the source of consequences that spread far and wide, and flow for years or centuries, could scarcely feel secure in reckoning that with the death of the Duke of Strelsau and the restoration of King Rudolf to liberty and his throne, there would end, for good and all, the troubles born of Black Michael's daring conspiracy. The stakes had been high, the struggle keen; the edge of passion had been sharpened, and the seeds of enmity sown. Yet Michael, having struck for the crown, had paid for the blow with his life: should there not then be an end? Michael was dead, the Princess her cousin's wife, the story in safe keeping, and Mr. Rassendyll's face seen no more in Ruritania. Should there not then be an end? So said I to my friend the Constable of Zenda, as we talked by the bedside of Marshal Strakencz. The old man, already nearing the death that soon after robbed us of his aid and counsel, bowed his head in assent: in the aged and ailing the love of peace breeds hope of it. But Colonel Sapt tugged at his gray moustache, and twisted his black cigar in his mouth, saying, "You're very sanguine, friend Fritz. But is Rupert of Hentzau dead? I had not heard it."
Copyright © 1898 by Anthony Hope
Reviews
There are currently no reviews for this novel. Be the first to submit one! You must be logged in to submit a review in the BookTrackr section above.
Images
No alternate cover images currently exist for this novel. Be the first to submit one!