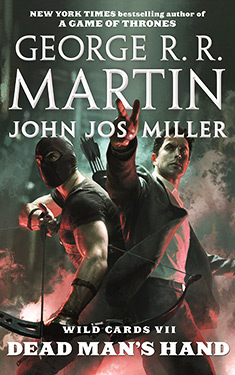 Synopsis
On waking on Monday morning from his regular nightmare, Jay Ackroyd's new assignment as Chrysalis' bodyguard gets off to a bad start when he discovers his employer's battered corpse at the Crystal Palace with an ace of spades placed conveniently on top - the calling card of the bow-and-arrow killer, Yeoman. Not trusting the nat police to put too much effort into finding the killer of a joker, Jay sets off to solve the case by himself.
Daniel Brennan, thinking he's escaped the violence for a quieter life in the country, sees the news of his ex-lover's murder on TV (and his implied role in it), and finds himself dragged back into his old life when he, too, chooses to pursue the matter himself and find the person responsible.
In the process of searching for the murderer, Jay bets the farm on finding the missing reporter, Digger Downs; gets sweaty with the ultimate femme fatale; briefly gains a Takisian sidekick; and comes face to face with the hideous Ti Malice. Brennan. meanwhile, takes a trip in the magic kingdom; hears Wyrm's horrible confession; finds unexpected help from the church; and uncovers the secret of Chrysalis' success.
Excerpt
CHAPTER 1
Monday
July 18, 1988
5:00 A.M.
THE TREES WERE MOVING, though there was no wind.
He did not know how long he had been walking, or how he had gotten to this place, but he was here, alone, and he was afraid. It was night, a night longer and darker than any he had ever known. Moonlight painted the landscape in shades of black and gray, but the moon was obscenely swollen, the color of rotting flesh. He looked up at it once, and for one awful moment it seemed to pulse. He knew he must not look again. Whatever he did, he must not look again.
He walked. On and on he walked. The gray, thin grass seemed to clutch at his bare feet with every step, to slide greasy tendrils between his toes. And the trees moved. Windless, they moved. Long cruel branches, barren of any leaves, writhed and twisted as he passed, and whispered secrets he did not want to know. If he stopped for only a moment, he would hear them clearly, he would understand. And then, surely, he would go mad. He walked.
Beneath that sickly-sweet moonlight, things that did not bear thinking of woke and stirred. Vast leathery wings beat against the air, filling the night with the smell of corruption. Gaunt spider shapes, leprous and rotten, slipped between the trees just out of sight, their legs rustling softly as they moved, never seen but never far behind him. Once a long low moan shuddered across the landscape, growing louder and louder until even the trees grew still and silent and afraid.
And then, when the feeling of dread was so thick he thought he might choke on it, he saw the subway kiosk up ahead.
It stood in the middle of the forest, bathed in that awful moonlight, but he knew it belonged, somehow. He began to run. He seemed to be moving very slowly, as if each stride took an eon. Slowly the mouth of the kiosk grew. The steps descending into the dark, the worn railing, the familiar signs; they called him home.
Finally he reached the top of the stairs, just when he felt he could run no farther. There were sounds behind him, but he dared not look around. He started down the steps, holding the handrail, faint with relief. It seemed as though he descended a long way. Trains rumbled through dark gulfs far, far below him. Still he descended. Now he could taste the fear again. The steps twisted around on themselves, spiraling down and down.
Then, well beneath him, he glimpsed another passenger, descending. He moved faster, bare feet slapping against the cold stone, down and around, and saw him again, a big man in a heavy black coat. He tried to call out to him, but here, in this place, his voice was gone. He ran even faster. He ran until his feet began to bleed. The steps had grown very narrow.
They opened suddenly, and he stepped out onto a long, narrow platform suspended over a vast blackness, a darkness that swallowed all light. The other man stood on the platform. There was something odd about his proportions, something disturbing about the way he stood there, humped and silent.
Then he turned, and Jay saw its face, a featureless white cone that tapered to a single wet red tentacle. It lifted its head and began to howl. Jay screamed ...
... and woke, shaking, in a dark room that smelled of piss.
"God damn," he muttered. His heart sounded like a rock drummer on speed, his underwear was soaked with sweat, and he'd wet the bed. This had been a bad one.
Jay fumbled for the bedside lamp, and swung his legs off the side of the bed and sat waiting for the nightmare to recede.
It seemed so real. But it always did. He'd been having the same damned nightmare since he was a kid. When he'd started waking up screaming twice a week, his parents banned H. P. Lovecraft from the bookshelf and threw away his prized collection of E. C. Comics. It didn't help; the dream stayed with him. Sometimes it went away for months. Then, just when he thought he was rid of it forever, it would return with a fury, and haunt his sleep night after night. He would be forty-five this year, and the dream was as vivid as the first time he'd dreamt it.
It was always the same: the long walk through that nightmarish forest, the old New York City subway kiosk, the endless descent into the earth, and finally the cone-faced thing on the platform. Sometimes, just after he woke, Jay thought that there was more to the dream, that there were parts he was forgetting, but if that was true, he didn't want to know.
Jay Ackroyd made his living as a private detective. He had a healthy respect for fear that had saved his life a time or two, but he didn't scare easily, at least not when he was awake. But he had one secret terror: that some night he would find himself standing on that platform, and the cone-faced thing would turn, and lift its head, and howl ... and he wouldn't wake up.
"No fucking thanks," Jay said aloud.
He looked at the clock. A few minutes past five in the morning. No sense trying to get back to sleep. He was due at the Crystal Palace in less than two hours. Besides, after one of his dreams, nothing short of cardiac arrest would close his eyes again.
Jay stripped the bed, bundling sheets, blankets, and underwear in his hamper to take to the laundromat the next chance he got. He'd be sleeping on Crystal Palace sheets for the next week or two, however long this gig with Chrysalis lasted. He hoped like hell the nightmare went away for a little while. He didn't think Chrysalis would be too thrilled to learn her new bodyguard had a recurring nightmare that freaked him out so bad that he wet his bed. Especially if she was in the bed when he wet it. Jay had been hitting on Chrysalis for years, but she'd never succumbed to his charms. He was hoping this might be his chance. Her body was so alive. Beneath that transparent skin, you could see the blood rushing through her veins, the ghostly movement of half-seen muscles, the way her lungs worked under the bones of her rib cage. And she had great tits, even if they were mostly invisible.
He opened the window to air out his bedroom, although the odors wafting up the dingy airshaft to his third-floor walk-up were almost as foul as those in the room. After a long soak in his clawfoot tub, he dried himself off in a beach towel decorated with a rather threadbare picture of Opus the Penguin.
In the top drawer of his dresser, Jay found some clean boxer shorts. Black socks in the drawer below. Then he went to the closet and looked at his suits. He had a cool white linen number that was fashionably rumpled, a charcoal gray Brooks Brothers three-piece, a pinstripe from Hong Kong that had been precisely tailored to his measurements. Hiram Worchester had given him all three. Hiram was always after Jay to dress better. He'd get more respect, Hiram promised. He'd get noticed. He might even get girls. The part about the girls tempted him, but otherwise Jay was having none of it. "Hiram," he had explained, "I'm a PI. I sit in parked cars and donut shops. I shoot Polaroids through motel windows. I bribe doormen and hide in bushes. I don't want to be noticed. If they made a suit out of Holiday Inn wallpaper, I'd buy six of them." But every Christmas Hiram gave him another goddamned suit.
It looked like it was going to be hot. Jay picked out a short-sleeved white shirt with a button-down collar, a pair of dark brown slacks to match his hair, and a tan blazer. No tie. He hated ties.
7:00 A.M.
Brennan woke from a deep, dreamless sleep as the light from the rising sun shone through the window and touched his face. Jennifer Maloy turned over, murmuring, as he slipped silently from under the sheet that covered their futon and padded noiselessly to the chair where his clothes were laid out. He put on shorts, T-shirt, and running shoes, and went quietly through the back door that opened to the outside.
The sun was up, the land was half-awake, wet with dew and alive with the smells of a clean country morning. Brennan took a deep breath, filling his lungs with fresh air as he stretched, unlimbering his body for his daily run.
He jogged to the front of the A-frame house, slipping into a slow trot as he reached the looping gravel driveway. He turned left at the mouth of the driveway, scattering the rabbits playing on the front lawn, and passed the sign that read ARCHER LANDSCAPING AND NURSERY. He felt alive and clean, at peace with himself and the world at the beginning of another beautiful day.
* * *
After his third knock went unanswered, Jay stepped inside the Crystal Palace.
The door wasn't locked. That surprised him. Chrysalis had been expecting him, yes, but she'd also been expecting trouble. Otherwise why bother to hire a bodyguard? When you're expecting trouble, you're supposed to lock your doors.
Jay poked his head into the darkened taproom. "Anyone home?" he called softly. "Chrysalis? Elmo?"
There was no answer. "Real good," he muttered under his breath. No wonder she needed a bodyguard. He considered turning on the lights, thought better of it, waited for his eyes to adjust. Slowly the outlines of the familiar room began to emerge from the gloom. Straight-back chairs upended on small round tables. The bar along one wall, rows of bottles stacked behind it against a long silver mirror. Booths across the way. And way in back, set off a little from the rest, the antique table in the private alcove where Chrysalis herself held court and sipped her amaretto.
For a moment, in the morning half-light, Jay thought he saw her sitting there, cloaked in shadow, slim ivory cigarette holder held lightly between skeletal fingers, smoke coiling lazily through the clear flesh of her throat as she tossed back her head to smile. "Chrysalis?" he said, walking slowly across the taproom. But her chair was empty when he reached it.
A strange chill went through him.
That was the moment when Jay Ackroyd knew.
He stood quietly beside the table, listening, remembering what he knew of the Crystal Palace. Chrysalis lived on the third floor, her chambers crowded with expensive Victoriana. Elmo, her dwarf bouncer, lived on the second floor. So did Sascha, the eyeless telepath who tended bar for her. All the public rooms were on the first floor. So was her office. Jay decided to start there.
The office was in the back of the building under the stairs. It had a wooden door, ornately carved, with a crystal doorknob. Jay took a rumpled handkerchief out of his pocket and turned the knob carefully with two fingers. The door swung open.
The room was windowless and black, but Jay didn't need eyes to know what he'd find inside. Death has a smell all its own. The hard coppery scent of blood, the sweaty stench of fear, the stink of shit. He'd smelled it before. The familiar miasma was there, waiting for him, and under it all was her perfume.
"Goddamn you," Jay said quietly to no one in particular. He reached over, handkerchief still in hand, and found the light switch.
Once, this room had had charm. Polished hardwood floors, a gorgeous Oriental rug, floor-to-ceiling bookcases full of leather-bound first editions, a solid oak desk older than he was, big leather armchairs that looked as though they might have come from the world's oldest men's club.
The chairs were shattered, wooden legs cracked and splintered, soft leather upholstery ripped and torn. Three of the high wooden bookcases had been toppled; one had been snapped in two. Splinters as long and pale as knives sprang from where the two halves clung together. Books were scattered everywhere.
Chrysalis lay sprawled on her back across the shattered remains of an armchair, the leather cushions and broken legs a jumble beneath her. The huge oak desk had been tipped over across the upper part of her body, hiding her face. She'd been wearing blue jeans and a plain white blouse. The front of the blouse was spattered with tiny droplets of blood. Her left leg bent the wrong way at the knee, and a jagged red piece of shinbone poked through the denim. Jay squatted by her left hand. He could see her finger bones through the ghostly outlines of tendons and the smooth, clear skin. All five fingers were shattered, the ring finger in two places; her crystalline flesh was suffused with the rosy glow of burst capillaries. Jay took her broken fingers in his own. A faint warmth still clung to her body, but she was cooling even as he held her.
After a moment, he released her hand and tried to lift the desk off her. It was heavy. He grimaced, shoved harder, and righted it with a grunt. Only when the desk was back against the wall did he look back down at Chrysalis.
Her face was gone.
Her skull hadn't been crushed as much it had been obliterated. The back cushion of her chair was sticky with dried blood. Bits of mashed brain oozed out between fragments of bone. Everything was red and wet. A small pool of blood had gathered under what was left of the chair, soaking into the Oriental rug. Jay looked up and saw more blood, a faint spray of it across the front of the desk and low on the walls, around the light socket. The patterned antique wallpaper was a gloomy purple color, very Victorian; it was hard to see the blood spatters, but they were there when you looked.
Jay stood up and tried not to feel anything. He'd seen bodies before, more than he cared to think about, and Chrysalis had been playing dangerous games for a long, long time. She knew too many secrets. Sooner or later, something like this was bound to happen.
He studied the position of the body, committing it to memory. It wasn't Chrysalis now, just dead meat, just evidence. When he'd seen all there was to see, Jay turned his attention to the rest of the room. That was when he first noticed the small rectangle of cardboard, lying beside her left thigh.
He moved around her and squatted for a closer look. He didn't touch it. He didn't have to. There wasn't a drop of blood on it, and it was lying faceup. A playing card.
The ace of spades.
"Son of a bitch," he said.
He was closing the office door behind him when he heard footsteps on the stairs. Jay pressed himself against a wall and waited. A moment later, a slender man with a pencil-thin mustache stepped into the hall. He wore slippers and a silk dressing gown, and there was an unbroken expanse of pale skin where his eyes should have been. His head turned slowly until he was looking into the shadows at Jay. "I can see your mind, Popinjay," he said.
Jay stepped out. "Call the police, Sascha," he said. "And don't call me Popinjay, dammit."
8:00 A.M.
Brennan leaned into the hill, arms pumping, breath flowing easily, sprinting up the steep grade near the end of the run that had taken him over forested hills and through dew-drenched meadows. The route he followed varied, but always ended at the unpaved county road that led him, sweaty and pleasantly winded, back to the gravel driveway with ARCHER LANDSCAPING AND NURSERY posted at the entrance.
The driveway looped around a series of gardens that were living advertisements of his horticultural skills. First was a Japanese miniature hill garden in the tsukiyama form, then an English shrubbery, and third a traditional flower bed blooming with a dozen different species of a dozen different hues. The driveway circled the flower bed and led past two greenhouses -- one for tropical foliage, the other for desert species -- and the Aframe house.
Brennan finished his run with a gut-busting sprint that brought him around behind the A-frame. He took a few minutes to cool down and calm his breathing, then folded himself comfortably into a meditative posture and gazed out over the kare sansui, the raked gravel bed rippling like frozen water in the morning breeze. Nested in the gravel were three rock triads. Brennan spent a timeless time sunk in the pool of zazen, not studying the rocks, their shadows, or the patterns of the moss that grew on them, then stood smoothly, relaxed, refreshed and ready for the day.
He went back into the bedroom that was sparsely furnished with a futon on the polished wood floor, a comfortable chair with a reading lamp and side table stacked with books, and a large wicker clothes hamper. Jennifer had gotten out of bed. He could hear water running in the shower of the connecting bathroom. Brennan took off his sweat-soaked T-shirt and dropped it in the hamper as he passed on through to the room that served as a combination living room/office. He flicked on the television to get the morning news, then sat at his deck and fired up the PC to check his schedule.
He watched the television as the computer tracked down the proper file. Most of the news was devoted to the Democratic National Convention, convening today in Atlanta. Nothing of substance had happened yet, but the analysis and predictions already seemed overblown and overdone.
Gregg Hartmann was the favorite, but his nomination would be a struggle, particularly with the man directly opposite him in political philosophy and belief -- the Reverend Leo Barnett.
Brennan distrusted all politicians, but if he could vote, he would cast his ballot for Hartmann. The man seemed honest and caring, especially when compared with the demagogue Barnett.
Copyright © 1990 by George R. R. Martin
Reviews
There are currently no reviews for this novel. Be the first to submit one! You must be logged in to submit a review in the BookTrackr section above.
Images
No alternate cover images currently exist for this novel.