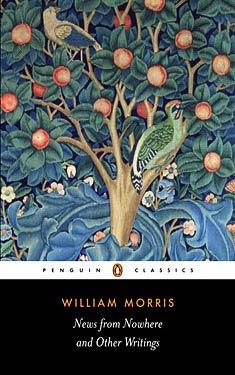 News from Nowhere: or, An Epoch of Rest
Synopsis
News From Nowhere, one of the most significant English works on the theme of utopia, is the tale of William Guest, a Victorian who wakes one morning to find himself in the year 2102 and discovers a society that has changed beyond recognition into a pastoral paradise, in which all people live in blissful equality and contentment. A socialist masterpiece, News From Nowhere is a vision of a future free from capitalism, isolation and industrialisation.
Excerpt
Up at the League, says a friend, there had been one night a brisk conversational discussion, as to what would happen on the Morrow of the Revolution, finally shading off into a vigorous statement by various friends of their views on the future of the fully-developed new society.
Says our friend: Considering the subject, the discussion was good-tempered; for those present being used to public meetings and after-lecture debates, if they did not listen to each others' opinions (which could scarcely be expected of them), at all events did not always attempt to speak all together, as is the custom of people in ordinary polite society when conversing on a subject which interests them. For the rest, there were six persons present, and consequently six sections of the party were represented, four of which had strong but divergent Anarchist opinions. One of the sections, says our friend, a man whom he knows very well indeed, sat almost silent at the beginning of the discussion, but at last got drawn into it, and finished by roaring out very loud, and damning all the rest for fools; after which befel a period of noise, and then a lull, during which the aforesaid section, having said good-night very amicably, took his way home by himself to a western suburb, using the means of travelling which civilisation has forced upon us like a habit. As he sat in that vapour-bath of hurried and discontented humanity, a carriage of the underground railway, he, like others, stewed discontentedly, while in self-reproachful mood he turned over the many excellent and conclusive arguments which, though they lay at his fingers' ends, he had forgotten in the just past discussion. But this frame of mind he was so used to, that it didn't last him long, and after a brief discomfort, caused by disgust with himself for having lost his temper (which he was also well used to), he found himself musing on the subject-matter of discussion, but still discontentedly and unhappily. "If I could but see a day of it," he said to himself; "if I could but see it!"
Copyright © 1891 by William Morris
Reviews
There are currently no reviews for this novel. Be the first to submit one! You must be logged in to submit a review in the BookTrackr section above.
Images
No alternate cover images currently exist for this novel. Be the first to submit one!