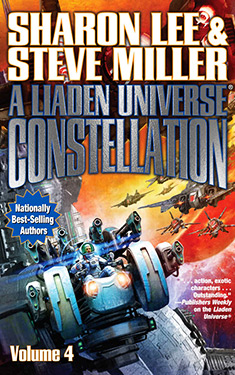 A Liaden Universe Constellation: Volume 4
Synopsis
For more than thirty years, the Liaden Universe novels by Sharon Lee and Steve Miller have captivated readers with their unique blend of action adventure, science fiction, and romance. In addition to twenty-one novels (and counting), Lee and Miller have written dozens of shorter works based in the Liaden Universe, featuring the strong characterization, detailed world-building, wit, and derring-do that readers of the series adore.
This fourth volume collecting Lee aned Miller's shorter Liaden Universe stories features four novelettes, two novellas, and two short stories.
Sure to delight longtime fans and newcomers alike, these tales highlight why the nationally best-selling Liaden Universe® novels are treasured by space opera aficionados, with amazing settings, strong characterizations, compelling romance, and edge-of-the-chair action in stories that range from cosmic to comic.
Table of Contents:
Friend of a Friend (2016) - novelette
Street Cred (2017) - novelette
Due Diligence (2017) - novella
Degrees of Separation (2018) - novella
Excerpts from Two Lives - (2018) - novelette
Revolutionists - (2018) - short story
Cutting Corners (2017) - short story
Block Party (2017) - novelette
Excerpt
No excerpt currently exists for this novel.
Reviews
Images
No alternate cover images currently exist for this novel.