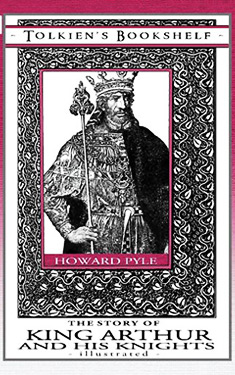 The Story of King Arthur and his Knights
Synopsis
Part One: The Book of King Arthur:
The Winning of Kinghood
The book begins by telling how young Arthur pulled a sword out of an anvil, how he learned of his royal lineage, and how he thus became king.
The Winning of a Sword
King Arthur loses to his enemy, King Pellinore. Merlin advises Arthur to seek Excalibur. The Lady of the Lake instructs Arthur on how to earn the sword, and, following her instructions, he takes Excalibur. He then meets Pellinore again, and with Excalibur's magic, he wins against him. The two thereafter make amends and become friends.
The Winning of a Queen
King Arthur is captivated by the Lady Guinevere. The notorious Duke of North Umber also wishes to marry her. The Duke torments the people of Cameliard by parading in front of the castle, calling for someone to challenge him and his men. Arthur accepts the challenge, gathers his Knights, and defeats the Duke and his companions. After the battle, Arthur reveals himself to King Leodegrance, and asks for the hand of his daughter.
Part Two: The Book of Three Worthies
The Story of Merlin
The Story of Sir Pellias
The Story of Sir Gawaine
Excerpt
AFTER several years of contemplation and of thought upon the matter herein contained, it has at last come about..., that I have been able to write this work with such pleasure of spirit that, if it gives to you but a part of the joy that it hath afforded me, I shall be very well content with what I have done. For I believe that King Arthur was the most honorable, gentle Knight who ever lived in all the world. And those who were his fellows of the Round Table... made, altogether, such a company of noble knights that it is hardly to be supposed that their like will ever be seen again in this world... So in the year of grace one thousand nine hundred and two I began to write this history of King Arthur and his Knights of the Round Table and, if I am able so to do, I shall endeavor, with love of that task, to finish the same at some other time in another book and to the satisfaction of whosoever may care to read the story thereof.
Copyright © 1903 by Howard Pyle
Reviews
There are currently no reviews for this novel. Be the first to submit one! You must be logged in to submit a review in the BookTrackr section above.
Images
No alternate cover images currently exist for this novel. Be the first to submit one!