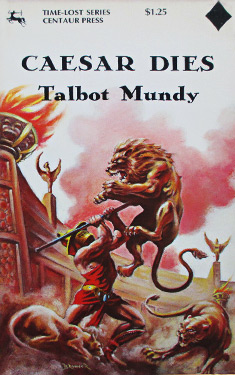 Synopsis
Set during the reign of the Emperor Commodus, here is Talbot Mundy's tale of palace intrigue, the brutalities and debaucheries of Rome, and a man who would make himself ruler of the civilized world!
Excerpt
Golden Antioch lay like a jewel at a mountain's throat. Wide, intersecting streets, each nearly four miles long, granite-paved, and marble-colonnaded, swarmed with fashionable loiterers. The gay Antiochenes, whom nothing except frequent earthquakes interrupted from pursuit of pleasure, were taking the air in chariots, in litters, and on foot; their linen clothes were as riotously picturesque as was the fruit displayed in open shop-fronts under the colonnades, or as the blossom on the trees in public gardens, which made of the city, as seen from the height of the citadel, a mosaic of green and white.The crowd on the main thoroughfares was aristocratic; opulence was accented by groups of slaves in close attendance on their owners; but the aristocracy was sharply differentiated. The Romans, frequently less wealthy (because those who had made money went to Rome to spend it)-- frequently less educated and, in general, not less dissolute--despised the Antiochenes, although the Romans loved Antioch. The cosmopolitan Antiochenes returned the compliment, regarding Romans as mere duffers in depravity, philistines in art, but capable in war and government, and consequently to be feared, if not respected. So there was not much mingling of the groups, whose slaves took example from their masters, affecting in public a scorn that they did not feel but were careful to assert. The Romans were intensely dignified and wore the toga, pallium and tunic; the Antiochenes affected to think dignity was stupid and its trappings (forbidden to them) hideous; so they carried the contrary pose to extremes. Patterning herself on Alexandria, the city had become to all intents and purposes the eastern capital of Roman empire. North, south, east and west, the trade-routes intersected, entering the city through the ornate gates in crenelated limestone walls. From miles away the approaching caravans were overlooked by legionaries brought from Gaul and Britain, quartered in the capitol on Mount Silpius at the city's southern limit.
Copyright © 1926 by Talbot Mundy
Reviews
There are currently no reviews for this novel. Be the first to submit one! You must be logged in to submit a review in the BookTrackr section above.
Images
No alternate cover images currently exist for this novel. Be the first to submit one!