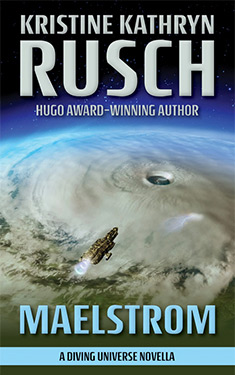 Synopsis
Asimov Readers Choice Award Finalist Novella
Maelstrom: The Final Voyage of the Gabriella
by Nedda Ferguson-Lithe
Recreating the last days of a lost ship proved a difficult writing challenge for me. I had already chosen an older form of storytelling as my medium, because I believed - and still believe - that this form suits my purposes best.
But I also need to maintain my journalistic standards, for my sake as well as the sake of the story. Many others have told tales of lost ships over hundreds of years, and those storytellers have all chosen to fictionalize certain parts of the narrative, if not the entire story.
My training will not allow me to do that.
Besides, that's not why I wrote this. I wrote this to find answers, sometimes to questions I hadn't even realized that I had. My need to know comes from a personal place. I lost my father on the Gabriella. I needed to know what, exactly, happened to him. I did not learn that. Not exactly.
But I learned more than I had known before.
I have spent years researching, interviewing, and organizing the information into something that resembles a narrative. We will never know what those final days were like for the crew of the Gabriella, but we have enough information to make an educated guess.
Which is what this is.
This novella was first published in the September-October 2020 issue of Asimov's Science Fiction. Read it for free at the publisher's website.
Excerpt
No excerpt currently exists for this novel. Be the first to submit one!

Submit an Excerpt
Reviews
Images
No alternate cover images currently exist for this novel. Be the first to submit one!