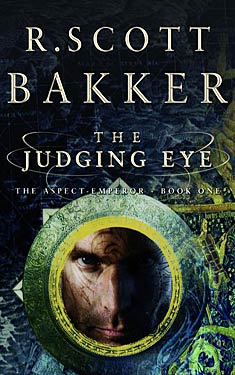 Synopsis
A cult author now in the mainstream, the thrilling return of R. Scott Bakker and The Prince of Nothing universe.
The Darkness That Comes Before, The Warrior Prophet, and The Thousandfold Thought --collectively the Prince of Nothing Saga-were R. Scott Bakker's magnificent debut into the upper echelon of epic fantasy. In those three books, Bakker created a world that was at once a triumph of the fantastic and an historical epic as real as any that came before.
Widely praised by reviewers and a growing body of fans, Bakker has already established the reputation as one of the smartest writers in the fantasy genre-a writer in the line stretching from Homer to Peake to Tolkein. Now he returns to The Prince of Nothing with the long awaited The Judging Eye, the first book in an all-new series. Set twenty years after the end of The Thousandfold Thought, Bakker reintroduces us to a world that is at once familiar but also very different than the one readers thought they knew. Delving even further into his richly imagined universe of myth, violence, and sorcery, and fully remolding the fantasy genre to broaden the scope of intricacy and meaning, R. Scott Bakker has once again written a fantasy novel that defies all expectations and rewards the reader with an experience unlike any to be had in the canon of today's literature.
Excerpt
No excerpt currently exists for this novel.
Reviews
Images
No alternate cover images currently exist for this novel.