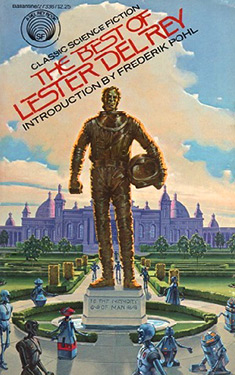 The Best of Lester del Rey
Author:
Lester del Rey

Publisher:
Del Rey / Ballantine, 1978

Series:

This book does not appear to be part of a series. If this is incorrect, and you know the name of the series to which it belongs, please let us know.

Submit Series Details

Book Type:
Collection
Genre:
Science-Fiction
Sub-Genre Tags:
Awards:
Lists:
Links:
Avg Member Rating:

(3 reads / 2 ratings)
Synopsis
The Pyrotechnics of Lester del Rey
SF's most protean personality--writer, editor, critic, publisher--sets off an incomparable fireworks display in these tales of robots and humans, animals and aliens, ghosts and gods, science and the supernatural . . .
HELEN O'LOY
If you want an ideal mate, build her!
HEREAFTER, INC.
This is Heaven? The hell it is!
LITTLE JIMMY
The invisible kid was a ghost for sure. But whose?
INSTINCT
The robots labored to re-create the extinct human species--but there was one element they somehow left out.
FOR I AM A JEALOUS PEOPLE
"In God We Trust" is a great motto--until you find you can't.
And much more!
Excerpt
Helen O'Loy
I am an old man now, but I can still see Helen as Dave unpacked her, and still hear him gasp as he looked her over.
"Man, isn't she a beauty?"
She was beautiful, a dream in spun plastics and metals, something Keats might have seen dimly when he wrote his sonnet. If Helen of Troy had looked like that the Greeks must have been pikers when they launched only a thousand ships; at least, that's what I told Dave.
"Helen of Troy, eh?" He looked at her tag. "At least it beats this thing--K2W88. Helen ... Mmmm ... Helen of Alloy."
"Not much swing to that, Dave. Too many unstressed syllables in the middle. How about Helen O'Loy?"
"Helen O'Loy she is, Phil." And that's how it began--one part beauty, one part dream, one part science; add a stereo broadcast, stir mechanically, and the result is chaos.
Dave and I hadn't gone to college together, but when I came to Messina to practice medicine, I found him downstairs in a little robot repair shop. After that, we began to pal around, and when I started going with one twin, he found the other equally attractive, so we made it a foursome.
When our business grew better, we rented a house out near the rocket field--noisy but cheap, and the rockets discouraged apartment building. We liked room enough to stretch ourselves. I suppose, if we hadn't quarreled with them, we'd have married the twins in time. But Dave wanted to look over the latest Venus-rocket attempt when his twin wanted to see a display stereo starring Larry Ainslee, and they were both stubborn. From then on, we forgot the girls and spent our evenings at home.
But it wasn't until "Lena" put vanilla on our steak instead of salt that we got off on the subject of emotions and robots. While Dave was dissecting Lena to find the trouble, we naturally mulled over the future of the mechs. He was sure that the robots would beat men some day, and I couldn't see it.
"Look here, Dave," I argued. "You know Lena doesn't think--not really. When those wires crossed, she could have corrected herself. But she didn't bother; she followed the mechanical impulse. A man might have reached for the vanilla, but when he saw it in his hand, he'd have stopped. Lena has sense enough, but she has no emotions, no consciousness of self."
"All right, that's the big trouble with the mechs now. But we'll get around it, put in some mechanical emotions, or something." He screwed Lena's head back on, turned on her juice. "Go back to work, Lena, it's nineteen o'clock."
Now I specialized in endocrinology and related subjects. I wasn't exactly a psychologist, but I did understand the glands, secretions, hormones, and miscellanies that are the physical causes of emotions. It took medical science three hundred years to find out how and why they worked, and I couldn't see men duplicating them mechanically in much less time.
I brought home books and papers to prove it, and Dave quoted the invention of memory coils and veritoid eyes. During that year we swapped knowledge until Dave knew the whole theory of endocrinology, and I could have made Lena from memory. The more we talked, the less sure I grew about the impossibility of Homo mechanensis as the perfect type.
Poor Lena. Her cuproberyl body spent half its time in scattered pieces. Our first attempts were successful only in getting her to serve fried brushes for breakfast and wash the dishes in oleo oil. Then one day she cooked a perfect dinner with six wires crossed, and Dave was in ecstasy.
He worked all night on her wiring, put in a new coil, and taught her a fresh set of words. And the next day she flew into a tantrum and swore vigorously at us when we told her she wasn't doing her work right.
"It's a lie," she yelled, shaking a suction brush. "You're all liars. If you so-and-so's would leave me whole long enough, I might get something done around the place."
When we calmed her temper and got her back to work, Dave ushered me into the study. "Not taking any chances with Lena," he explained. "We'll have to cut out that adrenal pack and restore her to normality. But we've got to get a better robot. A housemaid mech isn't complex enough."
"How about Dillard's new utility models? They seem to combine everything in one."
"Exactly. Even so, we'll need a special one built to order, with a full range of memory coils. And out of respect to old Lena, let's get a female case for its works."
The result, of course, was Helen. The Dillard people had performed a miracle and put all the works in a girl-modeled case. Even the plastic and rubberite face was designed for flexibility to express emotions, and she was complete with tear glands and taste buds, ready to simulate every human action, from breathing to pulling hair. The bill they sent with her was another miracle, but Dave and I scraped it together; we had to turn Lena over to an exchange to complete it, though, and thereafter we ate out.
I'd performed plenty of delicate operations on living tissues, and some of them had been tricky, but I still felt like a premed student as we opened the front plate of her torso and began to sever the leads of her "nerves." Dave's mechanical glands were all prepared, complex little bundles of pansistors and wires that heterodyned on the electrical thought impulses and distorted them as adrenalin distorts the reaction of human minds.
Instead of sleeping that night, we pored over the schematic diagrams of her structures, tracing the complex thought mazes of her wiring, severing the leaders, implanting the heterones, as Dave called them. And while we worked, a mechanical tape fed carefully prepared thoughts of consciousness and awareness of life and feeling into an auxiliary memory coil. Dave believed in leaving nothing to chance.
It was growing light as we finished, exhausted and exultant. All that remained was the starting of her electrical power; like all the Dillard mechs, she was equipped with a tiny atomotor instead of batteries, and once started would need no further attention.
Copyright © 1978 by Lester del Rey
Reviews
There are currently no reviews for this novel. Be the first to submit one! You must be logged in to submit a review in the BookTrackr section above.
Images
No alternate cover images currently exist for this novel. Be the first to submit one!