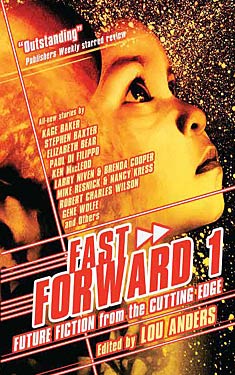 Synopsis
Science Fiction is the genre that looks at the implications of technology on society, which in this age of exponential technological growth makes it the most relevant branch of literature going. This is only the start, and the close of the 21st century will look absolutely nothing like its inception.
It has been said that science fiction is an ongoing dialogue about the future, and the front line of that dialogue is the short story. The field has a long history of producing famous anthologies to showcase its distinguished short fiction, but it has been several years since there has been a prestigious all-original science fiction anthology series.
Fast Forward is offered in the tradition of Damon Knight's prestigious and influential anthology series, Orbit, and Frederik Pohl's landmark Star SF. Fast Forward marks the start of a new hard science fiction anthology series, dedicated to presenting the vanguard of the genre and charting the undiscovered country that is the future.
Contributors for the first volume include: Kage Baker, Paolo Bacigalupi, Tony Ballantyne, Stephen Baxter, Elizabeth Bear, A. M. Dellamonica, Paul Di Filippo, Robyn Hitchcock, Louise Marley, Ken MacLeod, Ian McDonald, John Meaney, Larry Niven and Brenda Cooper, Mike Resnick and Nancy Kress, Justina Robson, Pamela Sargent, Mary A. Turzillo, Robert Charles Wilson, Gene Wolfe, and George Zebrowski.
Table of Contents:
Introduction: Welcome to the Future - essay by Lou Anders
YFL-500 - novelette by Robert Charles Wilson
The Girl Hero's Mirror Says He's Not the One - shortstory by Justina Robson
Small Offerings - shortstory by Paolo Bacigalupi
They Came from the Future - poem by Robyn Hitchcock
Plotters and Shooters - novelette by Kage Baker
Aristotle OS - shortstory by Tony Ballantyne
The Something-Dreaming Game - shortstory by Elizabeth Bear
No More Stories - shortstory by Stephen Baxter
Time of the Snake - shortstory by A. M. Dellamonica
The Terror Bard - novelette by Larry Niven and Brenda Cooper
p dolce - shortstory by Louise Marley
Jesus Christ, Reanimator - shortstory by Ken MacLeod
Solomon's Choice - novelette by Mike Resnick and Nancy Kress
Sanjeev and Robotwallah - shortstory by Ian McDonald
A Smaller Government - shortstory by Pamela Sargent
Pride - shortstory by Mary A. Turzillo
I Caught Intelligence - poem by Robyn Hitchcock
Settlements - shortstory by George Zebrowski
The Hour of the Sheep - shortstory by Gene Wolfe
Sideways from Now - novella by John Meaney
Wikiworld - novelette by Paul Di Filippo
Excerpt
"Wikiworld"
Paul Di Filippo
1.
Meet Russ Reynolds
Russ Reynolds, that's me. You probably remember my name from when I ran the country for three days. Wasn't that a wild time? I'm sorry I started a trade war with several countries around the globe. I bet you're all grateful things didn't ramp up to the shooting stage. I know I am. And the UWA came out ahead in the end, right? No harm, no foul. Thanks for being so understanding and forgiving. I assure you that my motives throughout the whole affair, although somewhat selfish, were not ignoble.
And now that things have quieted down, I figured people would be calm enough to want to listen to the whole story behind those frighteningly exciting events.
So here it is.
Copyright © 2007 by Lou Anders
Reviews
There are currently no reviews for this novel. Be the first to submit one! You must be logged in to submit a review in the BookTrackr section above.
Images
No alternate cover images currently exist for this novel. Be the first to submit one!