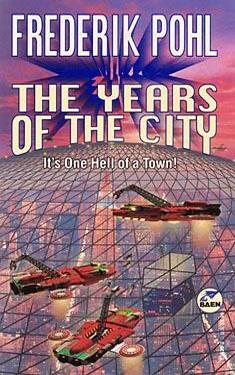 Synopsis
In the New York City of the next century, twin domes over Manhattan control extremes of weather, illegal hang-gliding is common, and many old problems have been solved--but the rage of some Gothamites cannot be controlled.
Table of Contents:
Introduction - essay by Frederik Pohl
When New York Hit the Fan - novella
The Greening of Bed-Stuy - (1984) - novella
The Blister - (1984) - novella
Second-Hand Sky - novella
Gwenanda and the Supremes - novella
Excerpt
"Up," grinned Martineau, and showed the blade in his hand. It was a sleeve knife, razor sharp. Bratislaw edged back and up toward the open latticework where plastic covering had yet to cover the dome. His eyes were fixed on the steel.
"Tiny," he said, "you and Ella've got this all wrong. I'll never testify!"
"Right," said Tiny cheerfully. "Just keep going up and we won't have any trouble."
"Tiny?" he offered. "I think we better talk to Ella."
Tiny shook his head regretfully. "She don't want to talk to
you any more, Jeffer," he said, uncoiling a safety line from his waist and clipping one end to the lifeline and the other to his belt.
"You can't do this!" Bratislaw yelled, retreating a step along the catwalk.
"Sure I can," grinned Tilly. "I got my orders from Ella, that's
how I know it's okay. Now, you just hold still a minute-"
And Bratislaw might have done it, a monkey caught in the python's glare, but the wind was whistling around him and the chill steel was slippery; he moved away and stumbled. He fell flat on the catwalk, hugging it as he'd never hugged a woman, scared as he had never been in his life.
And there was Tiny Martineau galloping toward him. The knife was back in his sleeve, no longer needed to do the job he had come to do. The expression on his face was serious and thoughtful as he drew back a foot to kick Bratislaw loose from the catwalk.
It wasn't skill. It was terrified reflex. Bratislaw kicked first. He caugh! Martineau on the ankle that had been in a cast; the slippery steel slipped; the giant yelled in sudden rage and fright; he fell across Bratislaw, missed a grab for the steel...
Copyright © 1984 by Frederik Pohl
Reviews
There are currently no reviews for this novel. Be the first to submit one! You must be logged in to submit a review in the BookTrackr section above.
Images
No alternate cover images currently exist for this novel. Be the first to submit one!