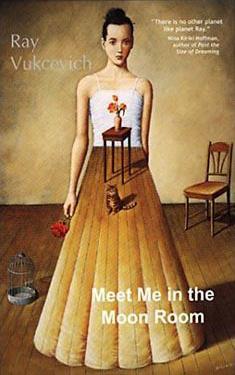 Meet Me in the Moon Room
Author:
Ray Vukcevich

Publisher:
Small Beer Press, 2001

Series:

This book does not appear to be part of a series. If this is incorrect, and you know the name of the series to which it belongs, please let us know.

Submit Series Details

Book Type:
Collection
Genre:
Science-Fiction
Sub-Genre Tags:
Awards:
Lists:
Links:
Avg Member Rating:

(3 reads / 2 ratings)
Synopsis
Here are thirty-three weird, wonderful stories concerning men, women, teleportation, wind-up cats, and brown paper bags. By turns whimsical and unsettling -- frequently managing to be both -- these short fictions describe family relationships, bad breakups, and travel to outer space.
Vukcevich's loopy, fun-house mirror take on everyday life belongs to the same absurdist school of work as that of George Saunders, David Sedaris, Ken Kalfus, and Victor Pelevin.
Excerpt
An excerpt from "Whisper"
And then she fired her parting shot. "And not only that," she said, as if "that" hadn't been quite enough, "you snore horribly!"
"I do not," I said. "I definitely do not snore." I was talking to her back. "You're making it up!" I was talking to the door. "Someone else would have mentioned it!" I was talking to myself.
Mistakes were made, relationships fell apart, and hurtful things were said. Life was like that.
In the days that followed, I rearranged all the furniture. I threw out everything in the refrigerator. I bought newspices -- savory, anise, cumin, cracked black pepper -- and packaged macaroni and cheese and powdered soups. Anchovies. Things Joanna didn't like. I left the toilet seat up all the time and dropped my clothes wherever I took them off. I got a new haircut and collected brochures for a getaway to Panama. I looked at a red convertible but didn't buy it.
Her crack about me snoring wouldn't leave me alone, probably because it poked something that had always worried me. My father had snored. I remembered listening to him snore all the way down the hall and around the corner. I always thought it must be awful to be in there with him. Maybe it ran in the family, like baldness or alcoholism.
The solution, once it hit me, seemed obvious. I would record myself sleeping. I had nothing that would record such a long time, so I went to an audio store and bought an expensive machine that would do the job. I used some of the money I'd saved by not buying the red convertible.
I set it up on the dresser across the room at the foot of the bed. I poured myself a nightcap, drank it during the eleven o'clock news, brushed my teeth, turned on the recorder, got into bed and squirmed around restlessly for over an hour, listening to the possibly imaginary whir and hiss of magnetic tape moving through the mechanism.
The next day, there was no time to check the tape as I hurried through my morning ritual and left for work. I was tempted, but I couldn't afford to be late. Then I got busy and didn't think about it again until bedtime the next night.
I made myself a complicated drink and a plate of crackers with anchovies and cheese and sat down on the foot of my bed. I don't know exactly what I expected. I was a little apprehensive. I stretched up and switched on the machine.
There were the sounds of me changing positions and sighing as I tried to get to sleep. I listened and ate a few crackers then stood up and held down the fast-forward button.
There were long periods of silence. No snoring. The house was quiet, too, with that late night stillness that isn't really so quiet when you finally listen, and the two silences got mixed together until I was listening hard and eating crackers and not caring about the crumbs in my bed.
I continued sampling a moment here and there and then moving on.
"Ah ha," I said. "I knew it."
There was a long embarrassing fart an hour or so into the night, but absolutely no snoring. I heard something move in the kitchen like stuff settling in the plastic trash bag, a totally familiar sound. In fact, I couldn't tell if it was on the tape or had just happened in real time. I heard the house creaking and the distant sounds of traffic and once an auto horn. Several hours later, a siren screamed in the distance, and my sleeping self moaned. The 3:00 a.m. train went by, five miles to the south. I had stopped hearing that whistle a long time ago. It was comforting somehow to hear it again. I speeded the tape forward.
I was home free.
Joanna had been jerking me around.
But then a woman said, "Shush!' and giggled softly, and I gasped and jerked my hand up and drenched the front of my shirt with my drink.
I looked around wildly, thinking it was Joanna talking, thinking maybe it hadn't been on the tape, thinking maybe she was standing right behind me, but most of me knew she wasn't there. And the superspeed scenario I played in my mind where she'd sneaked into my bedroom last night to talk on my tape was stupid. Besides it hadn't even been her voice.
"Just look at him," the voice whispered.
Copyright © 2001 by Ray Vukcevich
Reviews
There are currently no reviews for this novel. Be the first to submit one! You must be logged in to submit a review in the BookTrackr section above.
Images
No alternate cover images currently exist for this novel. Be the first to submit one!