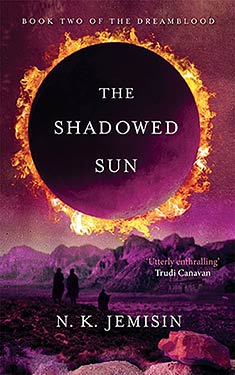 Synopsis
Gujaareh, the city of dreams, suffers under the imperial rule of the Kisuati Protectorate. A city where the only law was peace now knows violence and oppression. And nightmares: a mysterious and deadly plague haunts the citizens of Gujaareh, dooming the infected to die screaming in their sleep. Trapped between dark dreams and cruel overlords, the people yearn to rise up -- but Gujaareh has known peace for too long.
Someone must show them the way.
Hope lies with two outcasts: the first woman ever allowed to join the dream goddess' priesthood and an exiled prince who longs to reclaim his birthright. Together, they must resist the Kisuati occupation and uncover the source of the killing dreams... before Gujaareh is lost forever.
Excerpt
Chapter 1: The Sharer's Test
There were two hundred and fifty-six places where a man could hide within his own flesh. The soldier dying beneath Hanani's hands had fled to someplace deep. She had searched his heart and brain and gut, though the soul visited those organs less often than layfolk thought. She had examined his mouth and eyes, the latter with special care. At last, behind a lobe of his liver, she found his soul's trail and followed it into a dream of shadowed ruins.
Piles of rubble loomed out of the twilit mists—crumbling structures so titanic that each single brick would dwarf a man, so foreign in design that she could not fathom their purpose. A palace? A temple? Camouflage, regardless. Beneath her feet the dust gleamed, something more than mica: each step displaced a million stars. She took care to put them all back in her wake.
To find the soldier, Hanani would have to first deal with the setting. It was simple enough to will the ruins into order, which she did by crouching to touch the ground. Threads of dreamichor, yellow-bright and gleaming, laced from her fingertips and etched the ground for a moment before vanishing into it. A breath later, the dust skittered up to seal cracked stone; the harbinger of change. Then the earth split and the ground shook as great bricks righted themselves and flew through the air, clattering together to form columns and walls. All around her, had she chosen to watch, the outlines of a monstrous city took shape against the gradient sky. But when the city was whole, she rose and moved on without looking. There was far more important work to be done.
["This takes longer than it should."
"The injury is healing."
"That does no good if he dies."
"He won't. She has him. Watch."]
After first passing a stone archway, Hanani paused and turned back to examine it. The arch was man-height, the only thing of normal proportions in the dreamscape. Beyond the arch lay the same shadows that shrouded all — no. The shadows were thicker here.
Prowling carefully closer, Hanani attempted to step through the archway.
The shadows pressed back.
She imagined illumination.
The shadows grew thicker.
After a moment's consideration, she summoned pain and fear and rage instead, and wrapped these around herself. The shadows' resistance melted; the soldier's soul recognized kindred. Passing through the arch, Hanani found herself in an atrium garden, the kind that should have helped to cool the heart of any home — but this one was dead. She looked around, ducking splintered palms and wilted moontear vines, frowning at a suppurating mess of a flowerbed. Then she spied something beyond it: there at the garden's heart, curled in a nest of his own sorrow, lay the soldier.
Pausing here, Hanani shifted a fraction of her attention back to the waking realm.
["Dayu? I'll need more dreambile soon."
"Yes, Hanani -- Um, I mean, Sharer-Apprentice."]
That done, Hanani returned to the dream of the hidden garden. The soldier lay with knees drawn up and arms wrapped about himself as if for comfort. In the curve of his body, a gaping wound spilled his intestines into a hole at the nest's heart. She could see nothing beyond the hole, only that perverse umbilical connecting him to it.
Death, said the air around him.
"Not here, Petitioner," she replied. "These are the shadowlands. There are better places to die."
He did not move, hungering again for death. Again she demurred. Memory, she offered, to entice him.
Anguish flared up in cold, purple-white wisps, wreathing the area around the nest as a new form coalesced. Another man: older, bearded in the way of those who bore northern blood, also garbed as a soldier but clearly of some higher rank than Hanani's soldier. A relative? Mentor? Lover? Beloved, whoever he was.
"Gone," Hanani's soldier whispered. "Gone without me."
"May he dwell in Her peace forever," she said. Extending her hands to either side, she trailed her fingers through the ring of mist. Where she touched, delicate deep red threads blended and pulsed into the white.
["She uses more dreamblood? She'll run out at that rate."
"Then we'll give her more. The desert scum have nearly cut him in two, man, what do you expect?"]
Hanani's soldier moaned and curled into a tighter ball as red threads stretched forth from the walls, soaking into his skin. Abruptly the mists flickered, the bearded soldier's image growing insubstantial as shadows. New scenes formed instead, appearing and overlapping and fading with each breath. A lonely perch atop a wall. Sword practice. A barracks bed. A river barge.
Hanani coaxed the memories to continue, inserting gentle suggestions to guide them in a new direction. Loved ones. Life. The scenes changed to incorporate the bearded soldier and others — doubtless the petitioner's comrades or caste-kin. They laughed and talked and worked at daily tasks. As the images flowed, Hanani reached carefully around the man and into the hole that was devouring him. The first contact sent pain slamming up her arm like a blow — but cold, so terribly cold! She gasped and fought the urge to cry out as her fingers stiffened and froze and cracked apart –
No. She formed her soulname's syllables within her mind and clarity washed through her, a reminder that this was a dream and she was its master. This pain is not my own. When she drew her hand back, it was whole.
But the man was not; the pain was devouring him. She focused on the images again, noting one of a tavern. The petitioner was not there, although his dead beloved and other comrades were, laughing and singing a lusty song. There was danger in this, she realized abruptly. The petitioner had been injured in a raid, his beloved killed. She had no idea whether the rest of his companions had been cut down as well. If so, then what she meant to attempt might only increase his death-hunger.
There was no choice but to try.
["—As though you want her to fail, Yehamwy."
"Of course not. The Council simply wants to be certain of her competence."
"And if the Council knew the first thing about healing, that would be -- "
"What is that noise?"
Copyright © 2012 by N. K. Jemisin
Reviews
Images
No alternate cover images currently exist for this novel.