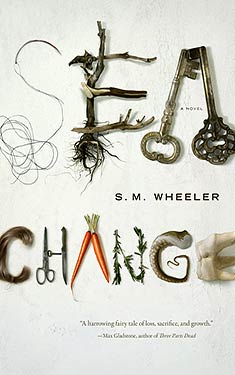 Sea Change
Author:
S. M. Wheeler

Publisher:
Tor, 2013

Series:

This book does not appear to be part of a series. If this is incorrect, and you know the name of the series to which it belongs, please let us know.

Submit Series Details

Book Type:
Novel
Genre:
Fantasy
Sub-Genre Tags:
Fairytale Fantasy

Awards:
Lists:
Links:
Avg Member Rating:

(7 reads / 4 ratings)
Synopsis
The unhappy child of two powerful parents who despise each other, young Lilly turns to the ocean to find solace, which she finds in the form of the eloquent and intelligent sea monster Octavius, a kraken. In Octavius's many arms, Lilly learns of friendship, loyalty, and family. When Octavius, forbidden by Lilly to harm humans, is captured by seafaring traders and sold to a circus, Lilly becomes his only hope for salvation. Desperate to find him, she strikes a bargain with a witch that carries a shocking price.
Her journey to win Octavius's freedom is difficult. The circus master wants a Coat of Illusions; the Coat tailor wants her undead husband back from a witch; the witch wants her skin back from two bandits; the bandits just want some company, but they might kill her first. Lilly's quest tests her resolve, tries her patience, and leaves her transformed in every way.
A powerfully written debut from a young fantasy author, S.M. Wheeler's Sea Change is an exhilarating tale of adventure, resilience, and selflessness in the name of friendship.
Excerpt
Acid flowed at the table more often than wine and had long since ceased to cause Lilly alarm; her attention remained on the soup even as Father asked, "Does the thought of me still pain your head, love?"
Cool, Mother replied, "I fear I am coming down with some strange illness, for I suffer still. I should go to the baths and--"
His habit was to swallow such lies with a drought of the liquor at hand, but tonight the bottle had been emptied already. "And by what means will you have a child of mine while resting there?" He laughed, a deep, drink-rough noise. "Mourning the parting, will you lie with me the night before--then abort whatever is thus got and have a bastard by another man, to return to this house and claim--"
"Lilly." Mother looked to her, fire on her tongue such that all her husband's anger seemed but sparks. Here was not the woman who called Lilly sweetheart and cradled her face between her hands; in such a temper, she looked taller than Father, her presence heavy with the soot of past fury. "Dinner is over. Go to your room."
Lilly filched a glazed bun from the table because she refused to go without something sweet; wrapping it in a napkin as she went out, she shut the door behind her then put her ear to the keyhole. She dismissed the thought of capture, for the servants were all stiff-faced and silent at the edges of the room, or gone away to the kitchen if they could, ashamed to serve a family that would descend into this crudity--unless all households of old blood were thus, and all servants must foster the ability to overlook lapses in decorum.
Though not given to eavesdropping, this argument concerned her; younger siblings would mean a sea-change, a reshuffling of priorities, danger along with freedom. The thick door muffled their voices but it didn't matter; when their war came to open battle they fought lustily, snide murmurs giving way to shouts.
"If you won't have my child--"
"I promised you one, and that one is enough." She spoke now in her country burr, the honest voice; and softer, almost inaudible: "I will not die with the second."
"I know. I know. But you're better than your forebears. And what is she, this girl?"
Giving a short laugh, Mother said, "Your child."
"But no sweet girl for me, not soft-eyed: no, sharp and sea-loving--"
Miss Scholastika caught Lilly by the ear, and dragging her by it as she only did outside of Father's sight--though happy to do so when Mother watched--took her from the door. Both of them stayed quiet; Lilly bit her lip with eyes brimming, and Miss Scholastika kept herself to the pinch-mouthed look that the toothless excelled at. Only when they reached Lilly's room did the servant release her and ask, "How shameless are you to be eavesdropping?" Her voice quavered--not angry, but fearful. "There are things a child shouldn't hear."
"They voiced those before I left," Lilly said, reasonable, and flinched as the woman's hand came up; but Miss Scholastika only rested it against Lilly's cheek, the side of her face where the skin looked darkly bruised, brown and black, swollen.
Whispering, now, "Both of them love you."
"Yes. Father wants a daughter he can parade or a son to become a merchant-marquis in his place, though." Lilly moved away, smiled--and meant it. "Ma'am, I am happy."
"You don't know what that means," the old woman said, bitter, and before leaving added, "Turn your mind to your books, child. I will want to hear what you know about our neighbor kingdoms tomorrow."
Lilly did no such thing, knowing that the servants' ability to turn a blind eye extended to her behavior. Slipping off her satin shoes and stockings and full skirts, she donned instead last year's skirt--it fell just above her ankles and still fitted her waist--and on her feet put the soft leather shoes Mother gifted her with a conspiratorial wink and a finger held over her lips.
Copyright © 2013 by S. M. Wheeler
Reviews
Images
No alternate cover images currently exist for this novel. Be the first to submit one!