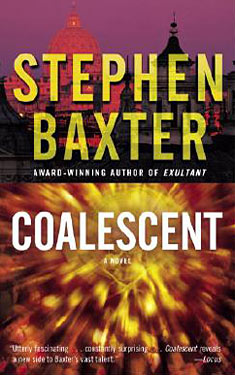 Synopsis
George Poole isn't sure whether his life has reached a turning point or a dead end. At forty-five, he is divorced and childless, with a career that is going nowhere fast. Then, when his father dies suddenly, George stumbles onto a family secret: a sister he never knew existed. A twin named Rosa, raised in Rome by an enigmatic cult. Hoping to find the answers to the missing pieces of his life, George sets out for the ancient city.
Once in Rome, he learns from Rosa the enthralling story of their distant ancestor, Regina, an iron-willed genius determined to preserve her family as the empire disintegrates around her. It was Regina who founded the cult, which has mysteriously survived and prospered below the streets of Rome for almost two millennia. The Order, says Rosa, is her real family and, even if he doesn't realize it yet, it is George's family, too. When she takes him into the vast underground city that is the Order's secret home, he feels a strong sense of belonging, yet there is something oddly disturbing about the women he meets. They are all so young and so very much alike.
Stephen Baxter possesses one of the most brilliant minds in modern science fiction. His vivid storytelling skills have earned him comparison to the giants of the past: Clarke, Asimov, Stapledon. Like his great predecessors, Baxter thinks on a cosmic scale, spinning cutting-edge scientific speculation into pure, page-turning gold. Now Baxter is back with a breathtaking adventure that begins during the catastrophic collapse of Roman Britain and stretches forward into an unimaginably distant, war-torn future, where the fate of humanity lies waiting at the center of the galaxy....
Excerpt
Chapter 1
I have come to stay in Amalfi. I can't face going back to Britain - not yet - and to be here is a great relief after the swarming strangeness I encountered in Rome.
I've taken a room in a house on the Piazza Spirito Santo. There is a small bar downstairs, where I sit in the shade of vine leaves and drink Coke Light, or sometimes the local lemon liqueur, which tastes like the sherbet-lemon boiled sweets I used to buy as a kid in Manchester, ground up and mixed with vodka. The crusty old barman doesn't have a word of English. It's hard to tell his age. The flower bowls on the outdoor tables are filled with little bundles of twigs that look suspiciously like fasces to me, but I'm too polite to ask.
Amalfi is a small town nestling in a valley on the Sorrento Peninsula. This is a coast of limestone cliffs, into which the towns have been carved like seabird nesting grounds. People have adapted to living on a vertical surface: there are public staircases you can follow all the way to the next town. Nothing in Italy is new - Amalfi was a maritime power in the Middle Ages - but that sense of immense age, so oppressive in Rome, is ab- sent here. And yet much of what shaped the horror in Rome is here, all around me.
The narrow cobbled streets are always crowded with traffic, with cars and buses, lorries and darting scooters. Italians don't drive as northern Europeans do. They just go for it: they swarm, as Peter McLachlan would have said, a mass of individuals relying on the unwritten rules of the mob to get them through.
And then there are the people. Just opposite my bar there is a school. When the kids are let out in the middle of the day - well, again, they swarm; there's really no other word for it. They erupt into the piazza in their bright blue smocklike uniforms, all yelling at the tops of their voices. But it's soon over. Like water draining from a sieve, they disperse to their homes or to the cafs and bars, and the noise fades.
And, of course, there is family. You can't get away from that in Italy.
Amalfi used to be a center for making rag paper, a technique they learned from the Arabs. Once there were sixty mills here. That number has dwindled to one, but that one still supplies the Vatican, so that every papal pronouncement can be recorded forever on acid-free rag paper, now made fine enough for a computer printer to take. And that surviving Amalfi mill has been operated without a break by the same family for nine hundred years.
The swarming crowds, the thoughtless order of the mob, the cold grasp of ancient families: even I see visions of the Coalescents everywhere I look.
And I see again that extraordinary crater, collapsed in the middle of the Via Cristoforo Colombo, with the plume of gray-black tufa dust still hanging in the air above it. Workers from the offices and shops, clutching cell phones and coffees and cigarettes, peered into the hole that had suddenly opened up in their world. And the drones simply poured out of the crater, in baffling numbers, in hundreds, thousands. Obscured by the dust, they looked identical. Even now there was a kind of order to them - but nobody led. The women at the fringe would press forward a few paces, blinking at the staring office workers around them, and then turn and disappear back into the mass, to be re- placed by others, who pushed forward in turn. When it reached the edge of the road, the flowing mob broke up, forming ropes and ten- drils and lines of people that washed forward, breaking and recombin- ing, probing into doorways and alleyways, swarming, exploring. In the dusty light they seemed to blur together into a single rippling mass, and even in the bright air of the Roman afternoon they gave off a musky, fetid odor.
I suppose I'm trying to compensate. I spend a lot of my time alone, in my room, or walking in the hills that loom over the towns. But a part of me still longs, above everything else, to go back, to immerse myself once more in the Coalescents' warm tactile orderliness. It is an unfulfilled longing that, I suspect, will stay with me until I die.
How strange that my quest to find my own family would lead me to such mysteries, and would begin and end in death.
Copyright © 2003 by Stephen Baxter
Reviews
There are currently no reviews for this novel. Be the first to submit one! You must be logged in to submit a review in the BookTrackr section above.
Images
No alternate cover images currently exist for this novel.