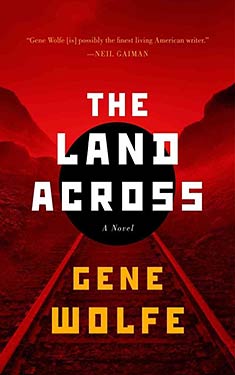 Synopsis
An American writer of travel guides in need of a new location chooses to travel to a small and obscure Eastern European country. The moment Grafton crosses the border he is in trouble, much more than he could have imagined. His passport is taken by guards, and then he is detained for not having it. He is released into the custody of a family, but is again detained. It becomes evident that there are supernatural agencies at work, but they are not in some ways as threatening as the brute forces of bureaucracy and corruption in that country. Is our hero in fact a spy for the CIA? Or is he an innocent citizen caught in a Kafkaesque trap?
In The Land Across, Gene Wolfe keeps us guessing until the very end, and after.
Excerpt
1
THE LAND ACROSS
Like most countries it is accessible by road or railroad, air or sea. Even though all those are possible, they are all tough. Visitors who try to drive get into a tangle of unmarked mountain roads, roads with zits and potholes and lots of landslides. Most drivers who make it through (I talked about it with two of them in New York and another one in London) get turned back at the border. There is something wrong with their passports, or their cars, or their luggage. They have not got visas, which everybody told them they would not need. Some are arrested and their cars impounded. A few of the ones who are arrested never get out. Or anyhow, that is how it seems.
It just made me more determined than ever. There are no travel books about the land across the mountains. NONE! Not in any language I could find. I was going to be the first, and maybe I still will be. Only this book you are holding comes before my travel book. You would not believe how long I have been writing and rewriting this one in my head, especially when I was a prisoner of the Legion of the Light and when I was in prison, sitting around in a cell with Russ Rathaus. I was lucky, I cannot even tell you how lucky, that I was never taken prisoner by the Unholy Way. Thank God for that!
At first I tried to get in by air. Lufthansa has service, but there are only two flights a week. I booked twice and had both canceled. The third did not land at the capital, saying bad weather. It went straight on to Ankara.
I decided to go by train and flew to Vienna, a real knockout city where there are lots of first-rate clubs. (See my first book, Dreaming on the Danube.) After some swell evenings dancing in the clubs and okay nights at the good old Hotel Sacher, I caught the Orient Express headed for Slovakia. For the rest of the day our train wound its way through hills and woods.
A lot of Americans think all of Europe is like Rouen or Cologne, crawling with people. It is not really like that. There is a whole lot more wilderness in Europe than foreigners like us imagine, and there is more and more as you go east. I hardly ever saw a house among the hills I saw from the Orient Express. Where there were a few, they were half-timbered and had those high sharp roofs you get where there is lots of snow.
A porter who would not talk to me made the bed in my compartment. When he had gone, I stripped and washed the way I generally do on trains, with a washcloth I dunked in a hand basin of water. Now it seems to me that I must have been asleep a long time before I got into bed.
* * *
I woke up during the night, and I will never forget it. We had stopped where they had fields of some kind of grain that grew a lot taller than a man. Silent men walked up and down the train, men I could just barely make out by starlight. They looked small, but I think they were really big men. They carried what I figured were dark lanterns, boxy black gadgets that shed floods of light you did not expect when they were opened. I had read about those but I had never seen any before. The train jolted and jolted again. I think it was probably the first of those jolts that woke me up.
One of the men stopped at my window to look up at me. I stared out at him through the dirty glass. He held up his lantern, which scared hell out of me. I do not know why. Anyway, I ducked down and backed away as far as I could without leaving my little compartment.
I was naked, and I decided right then that when I got back home I was going to buy pajamas as soon as I could. If I only had pajamas or a robe, both would have been better; I could have gone into the corridor outside where I might have found the porter and gotten him to talk to me. Traveling the way he did from Calais to Cairo and from Cairo back to Calais, he would have a lot of interesting stuff to tell if I could get him to tell it.
As it was, I stayed flat against the steel door of my compartment until the train got moving again, rattling and swaying along tracks that went up and down while they were turning left and right.
Everybody interested enough to read this book knows about the High Tatras and the Transylvanian Alps. Let me just say that the mountains I saw next morning were not particularly high, but rugged and dotted here and there with fir trees the wind had tortured. It was early spring, and the water spilling down their cliffs made me think of a certain type of girl, the tall cold blondes that knock your eyes out. Later I met Rosalee Rathaus, and she was a blond knockout even if she hardly came up to my chin in heels. I bet she would not weigh eighty pounds soaking wet. She was a good dancer, too. She promised me but I never collected. We will get into that in one of the later chapters.
After breakfast in the dining car, I went back to my compartment. I read until I got bored, then I had a look at the observation car. It was the double-decked kind, which I have always liked. I climbed the little stair to the upper deck and sat in one of the very cool swiveling red-leather seats there and watched the scenery whiz past until I fell asleep.
When I woke up, the train was going faster than ever, rattling and swaying as it crossed a big wasteland scarred with gullies.
Three border guards in uniforms were standing around me, and the biggest of the three was shaking my shoulder. Then the boss border guard, a skinny guy a lot shorter than me, started yelling questions in a language I did not know. The car was empty except for the four of us.
I got my passport out of my jacket and showed it to him. He passed it to the third border guard without looking at it. After that, they made me stand up, patted me down, took my iPhone, and tied my hands behind me. I guess I was scared, but mostly I was stunned.
The boss border guard marched along the upper deck of the observation car, motioning for me to follow. I did, noticing that the railing (which I knew darn well had been there when I had climbed to the upper deck) had been taken down. Steep little steps led from the upper deck to the main floor. The boss border guard trotted down them and I did my best to follow him. I was about halfway down when somebody pushed me. I fell, bumping into the boss border guard. I believe he must have landed on the lower steps. I rolled over him all the way to the bottom. He got up cursing and kicking. I could not understand his curses, but I knew what they were all right. I had never been kicked before and had not really known how bad it is. I think I must have blacked out.
The next thing I remember is being taken off the train, trying to walk and stumbling a lot while someone with strong hands held my arm.
The train had not slowed down but was roaring along beside a narrow black conveyer belt that was going even faster than it was, so that the shiny steel bands the sections were joined with looked like they were crawling slowly past us. We were waiting for the other two, or that was what it seemed like. When they joined us, the big guy who held me stepped from the train onto the belt, dragging me with him. Like I said, the belt went faster than the train had. It ran smoother, too. Beside it grass, brush, and dust pointed the way, blown by a howling wind. For us on the belt, it seemed like there was no wind at all. I noticed then that the train's diesel engine was gone, and there was a big steam engine up front. It was twice as big but looked old. It seemed to be trying to outrun its own smoke, but it could not do it.
If I had thought at all, I would have thought that we would be thrown off the end of the belt and die. It was not like that. Another, wider belt appeared to our right. This new belt was white, and moving slower than the black one. I fell when I tried to step onto it.
The boss border guard helped me up. His dark gray uniform cap had been mashed, and his scarlet-trimmed tunic was more than half-unbuttoned. (I think it was because three or four of the buttons had torn off.) Still he murmured, "Auanactain! Profasis!" like he was sorry I had been hurt. A minute later he helped me onto a red belt. I never did figure him out, only back then I thought maybe I could. My dad used to say foreigners' values were not the same as ours. Then he would dope them out anyway.
The red belt slowed down, I could feel the wind, and the biggest of the three helped me get off, lifting me like he would have picked up a little kid.
There was a car and a driver waiting for us. The biggest border guard, the boss, and I got into the backseat, with me pinned between them.
The third border guard took the front seat beside the driver. This third border guard was older than the other two. He had a black mustache, and in a lot of ways he looked like my father. Sometimes it seemed to me that the other two did not know he was there the same way I did. He never did talk, and nobody ever talked to him, except me. I did one time.
I asked whether we were going to the capital, at first in English, and then (when I was pretty sure neither of them understood it) in German. "No," the boss border guard told me in German. "We go to Puraustays."
I tried to remember a map I had seen. "Puraustays is a long way from the capital."
"No. It is near."
"Two hundred kilometers?"
The boss border guard just shrugged, reached into the pocket sewn onto the back of the seat in front of him, and took out a map. He opened it for me.
It was small and looked like it had been drawn for kids, with little pictures scattered here and there. I remember a miner and a wild ox. Looking up from it, I said, "This says three hundred and twenty kilometers."
The boss border guard chuckled. "All maps are wrong. If the Turks come, they will be lost."
We crossed a river that may have been the same river my train had roared across the day before. The little map called it the Taxus. Factories lined its bank, ugly gray buildings with tall chimneys of yellow brick. I asked what they ...
Copyright © 2013 by Gene Wolfe
Reviews
Images
No alternate cover images currently exist for this novel.