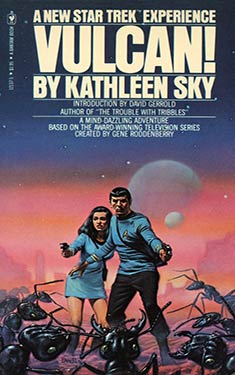 Synopsis
Dr. Katalya Tremaine is a brilliant scientist, but behind her logical facade lies an irrational loathing: she hates Vulcans. So when she is paired with Spock on a mission to the planet Arachne, she deduces that the planet isn't big enough for both of them. It is a tense situation, made worse when the other members of the team are killed by insectoid natives. Spock and Tremaine are stranded alone on the planet - and utterly dependent on each other for survival.
CAPTAIN'S LOG, 6454.4
Due to a series of freak ion storms, the Neutral Zone separating the Federation from the Romulan Empire will soon shift - and the planet Arachnae will fall entirely within Romulan space. Our mission: seek out intelligent life there and, if it exists, offer full Federation protection.
To help us complete the necessary surveys, Dr. Katalya Tremain was assigned to the USS Enterprise. She is the Federation's foremost expert on the exobiology of this region - and, as I have just discovered, has a fanatical hatred of any and all things Vulcan... including my first officer.
I have logged an official protest with Starfleet Command. Her behavior towards Mr. Spock is not only a disgrace to both her uniform and the Federation but also threatens the success of our mission... a threat we cannot afford when the fate of an entire civilization may rest upon our actions in the coming hours.
Excerpt
No excerpt currently exists for this novel.
Reviews
Images
No alternate cover images currently exist for this novel.