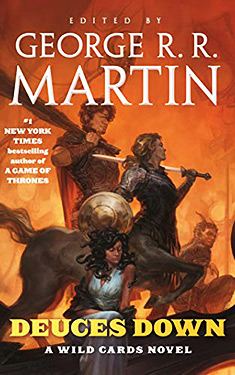 Synopsis
On September 15, 1946, a biological weapon created by an alien race was accidentally detonated above the streets of New York City, killing countless numbers of men, women, and children. But those who survived the initial explosion soon began to wish they had died also, once they discovered they had been forever mutated by the virus unleashed in the blast. . . .
When the first volume in the Wild Cards series made its debut in 1986, it caused a sensation in the science fiction and fantasy communities. Here were stories of superpowered beings in a real world setting, detailing the lives of "Aces," those given superhuman powers by the "Wild Cards" virus, and "Jokers"?those whom the virus transformed into freaks and monsters. Over the course of fifteen volumes, the world created by editor George R.R. Martin and some of SF's most talented writers was explored through the eyes of both Aces and Jokers across the globe.
In this all-new collection of Wild Cards stories, the spotlight is on the most unusual Wild Cards of them all?the Deuces. As you'll discover in this thrilling collection, their role in the Wild Cards Universe is just as important as that of the Aces and the Jokers. In fact, their actions have affected the course of Wild Cards history.
Set in an alternate, shared-world universe, Deuces Down is the one place you'll find such never-before-told tales as John J. Miller's exciting 1969 World Series between the Baltimore Orioles and the Brooklyn Dodgers; Michael Cassutt's first moon landing, when the whole world wasn't watching; Walton Simons' Great New York City Blackout of 1977; Melinda M. Snodgrass's account of Grace Kelly's mysterious disappearance during the filming of The French Lieutenant's Woman. It's a strange and terrifying world, where anything can happen. A world of Wild Cards.
Excerpt
No excerpt currently exists for this novel.
Reviews
There are currently no reviews for this novel. Be the first to submit one! You must be logged in to submit a review in the BookTrackr section above.
Images
No alternate cover images currently exist for this novel.