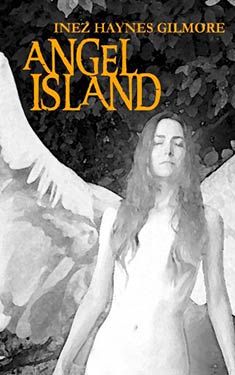 Synopsis
This is an exquisite 1914 feminist fantasy adventure novel, which went out of print without fanfare and then was "rediscovered."
It is an allegory about women's freedom and the restraint imposed by heterosexual pair-bonding.
A group of five men are shipwrecked on an uncharted island where they meet five shy but dazzling winged women. While they hammer and build and pass the time Robinson Crusoe style, the women silently flutter in and out of their days, teasing them with unattainable femininity.
The men devise plans to capture and woo the angel-like women, using "bait" such as mirrors and scarves. Finally they succeed, and in a terrible scene, cut the wings from each woman, forcing them to walk from then on.
The men hold a variety of viewpoints about the proper way to treat women which includes lots of dialogue about male/female relationships. A final surprise arrives with the new generation. Wings!!
Excerpt
It was the morning after the shipwreck. The five men still lay where they had slept. A long time had passed since anybody had spoken. A long time had passed since anybody had moved. Indeed, it, looked almost as if they would never speak or move again. So bruised and bloodless of skin were they, so bleak and sharp of feature, so stark and hollow of eye, so rigid and moveless of limb that they might have been corpses. Mentally, too, they were almost moribund. They stared vacantly, straight out to sea. They stared with the unwinking fixedness of those whose gaze is caught in hypnotic trance.
Copyright © 1914 by Inez Haynes Gillmore
Reviews
There are currently no reviews for this novel. Be the first to submit one! You must be logged in to submit a review in the BookTrackr section above.
Images
No alternate cover images currently exist for this novel. Be the first to submit one!