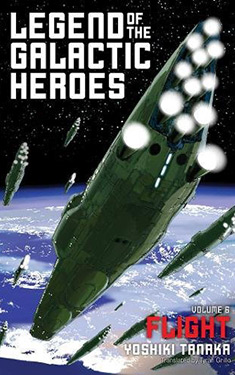 Legend of the Galactic Heroes, Vol. 6: Flight
Author:
Yoshiki Tanaka

Publisher:
Haikasoru, 2018
Original Japanese publication, 1985

Series:
Legend of the Galactic Heroes: Book 6

1. Legend of the Galactic Heroes, Vol. 1
2. Legend of the Galactic Heroes, Vol. 2
3. Legend of the Galactic Heroes, Vol. 3
4. Legend of the Galactic Heroes, Vol. 4
5. Legend of the Galactic Heroes, Vol. 5
6. Legend of the Galactic Heroes, Vol. 6
7. Legend of the Galactic Heroes, Vol. 7
8. Legend of the Galactic Heroes, Vol. 8
9. Legend of the Galactic Heroes, Vol. 9
10. Legend of the Galactic Heroes, Vol. 10


Book Type:
Light Novel
Genre:
Science-Fiction
Sub-Genre Tags:
Military SF
Space Opera

If you liked Legend of the Galactic Heroes, Vol. 6: Flight you might like these books.
Awards:
Lists:
Links:
Avg Member Rating:

(1 reads / 0 ratings)
Synopsis
It's the Galactic Empire versus the Free Planets Alliance in Japan's greatest space opera epic!
In the thirty-sixth century, humanity has conquered the galaxy and colonized countless star systems. The Galactic Empire, modeled along Prussian lines, and the democratic Free Planets Alliance are at war, and the fate of every human being in the universe hangs in the balance. This classic Japanese space opera, adapted into a legendary anime, is finally available in English for the first time.
After donning the emperor's crown, Reinhard becomes aware of an assassination plot against him. Knowing that the Church of Terra has its scheming hands in all places, he deploys his troops to the church's sacred homeland of Terra. Meanwhile, Yang's leisurely retirement is tempered by the surveillance networks from both sides watching his every move. And when he is one day visited by a group of men dressed in black, the galaxy, too, relinquishes peace to become embroiled in upheaval once again.
Excerpt
Elfriede stirred on the sofa. The evergreen oak door opened, and the master of the von Reuentahl residence cast his tall shadow across the floor. With his mismatched eyes, the man who'd taken Elfriede's virginity admired her cream-colored hair and fresh limbs.
"I'm touched. It seems you haven't run away after all."
"It's not as if I've done anything wrong. Why would I need to run away?"
"You're a criminal who tried to kill the secretary-general of the Imperial Navy's Supreme Command Headquarters. I could have you executed on the spot. The fact that I haven't put you in chains should tell you what a forgiving man I can be."
"I'm not a habitual criminal like all of you."
One couldn't wound the pride of a veteran hero with such cynicism and get away with it. The young admiral with the heterochromatic eyes let out a short, derisive laugh. He closed the door behind him and made his slow approach. His ferocity and grace were in perfect harmony. Ignoring his intention, the woman's eyes were drawn to him. When she came to her senses, her right wrist was firmly in his grasp.
"Such a beautiful hand," he said, his breath reeking of alcohol. "I've been told my mother's hands were also beautiful, as if carved from the finest ivory. She never once used those hands for anyone but herself. The first time she picked up her own son, she tried to stab him in the eye with a knife. That was the last time she ever touched me."
Caught in von Reuentahl's attractive gaze of gold and silver, Elfriede held her breath for a moment.
"Such a pity! Even your own mother knew her son would one day commit treason. She threw her feelings aside and took matters into her own hands. If only I had an ounce of her bravery. That such a splendid mother could give birth to such an unworthy son!"
"With a little adjustment, we could use that as your epitaph."
Von Reuentahl released Elfriede's white hand and brushed back the dark-brown hair hanging over his forehead. The sensation of his hand remained as a hot ring on the woman's wrist. Von Reuentahl leaned his tall frame against a wall tapestry, deep in thought.
"I just don't get it. Is it so terrible losing the privileges you had until your father's generation? It's not like your father or grandfather worked to earn those privileges. All they did was run around like children."
Elfriede swallowed her response.
"Where's the justice in that lifestyle? Noblemen are institutionalized thieves. Haven't you ever noticed that? If taking something by force is evil, then how is taking something by one's inherited authority any different?"
Von Reuentahl stood upright from the wall, his expression deflated.
"I thought you were better than that. What a turnoff. Get out, right now, and find yourself a man more 'worthy' of you. Some dimwit who clings to a bygone era in which his comfortable little life would've been guaranteed by authority and law. But before that, I have one thing to say."
The heterochromatic admiral banged the wall with his fist, enunciating every word.
"There's nothing uglier or lowlier in this world than gaining political authority regardless of ability or talent. Even an act of usurpation is infinitely better. In that case, at least one makes a real effort to gain that authority, because he knows it wasn't his to begin with."
Elfriede remained on the sofa, a seated tempest.
"I get it," she spat out, her voice filled with heat lightning. "You're just a regular rebel to the bone, aren't you?! If you think you have so much ability and talent, then why not have a go at it yourself? Sooner or later, your conceit will compel you to go against your present lord."
Elfriede ran out of breath and sank into silence. Von Reuentahl changed his expression. With renewed interest, he gazed at this woman who'd tried to kill him. A few seconds of silence passed before he spoke.
"The emperor is nine years younger than I am, and yet he holds the entire universe in his own hands. I may harbor animosity toward the Goldenbaum royal family and the noble elite, but I lack the backbone to overthrow the dynasty itself. There's no way I could ever be a match for him."
As he turned his back on the woman struggling to find her retort, von Reuentahl left the salon in stride. Elfriede watched as his broad-shouldered silhouette receded, but she suddenly turned away, having caught herself waiting for this abominable man to look back over his shoulder. Her gaze was fixed on an unremarkable oil painting and stayed that way for ten seconds. When she finally looked back, the master of the house was gone. Elfriede had no idea whether von Reuentahl had indeed looked back at her.
Copyright © 1985 by Yoshiki Tanaka
Reviews
There are currently no reviews for this novel. Be the first to submit one! You must be logged in to submit a review in the BookTrackr section above.
Images
No alternate cover images currently exist for this novel. Be the first to submit one!