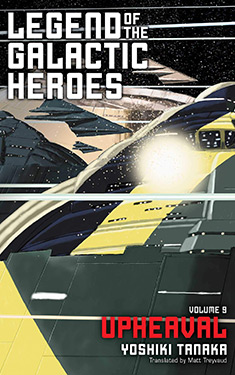 Legend of the Galactic Heroes, Vol. 9: Upheaval
Author:
Yoshiki Tanaka

Publisher:
Haikasoru, 2019
Original Japanese publication, 1987

Series:
Legend of the Galactic Heroes: Book 9

1. Legend of the Galactic Heroes, Vol. 1
2. Legend of the Galactic Heroes, Vol. 2
3. Legend of the Galactic Heroes, Vol. 3
4. Legend of the Galactic Heroes, Vol. 4
5. Legend of the Galactic Heroes, Vol. 5
6. Legend of the Galactic Heroes, Vol. 6
7. Legend of the Galactic Heroes, Vol. 7
8. Legend of the Galactic Heroes, Vol. 8
9. Legend of the Galactic Heroes, Vol. 9
10. Legend of the Galactic Heroes, Vol. 10


Book Type:
Light Novel
Genre:
Science-Fiction
Sub-Genre Tags:
Galactic Empire
Military SF
Space Opera

If you liked Legend of the Galactic Heroes, Vol. 9: Upheaval you might like these books.
Awards:
Lists:
Links:
Avg Member Rating:

(0 reads / 0 ratings)
Synopsis
It's the master tactician of the ruthless Galactic Empire versus the Free Planets Alliance in Japan's greatest space opera epic!
In the thirty-sixth century, humanity has conquered the galaxy and colonized countless star systems. The Galactic Empire, modeled along Prussian lines, and the democratic Free Planets Alliance are at war, and the fate of every human being in the universe hangs in the balance. This classic Japanese space opera, adapted into a legendary anime, is finally available in English for the first time.
The irregulars of the Iserlohn Republic, still loyal to the ideals of their former leader Yang Wen-li, rally around Yang's successor Julian as he strives to live up to his inherited responsibilities. Meanwhile, in the empire, Kaiser Reinhard survives an attempt on his life only to be confronted with the devastating sins of his past when he learns the true identity of his would-be assassin. Despite rumors of treason on the part of Neue Land governor-general Oskar von Reuentahl, the kaiser pays a personal visit to that territory, where an even greater shock lies in store.
Excerpt
"Your Majesty, I have every intention of accepting the marshal's staff from you alive." Lutz retained his composure as he spoke. He even smiled. "I had the honor of sharing the founding of Your Majesty's empire. With luck I will also share the ease and flourishing to come."
Lutz glanced at Müller. The "Iron Wall" nodded, then respectfully took Reinhard by the arm. "We must go, Your Majesty," he said.
Reinhard's golden hair shone even more splendidly in the firelight.
"Lutz, when you are no longer able to fire, surrender. Von Reuentahl knows how to treat a hero."
Lutz saluted, but spoke neither ja nor nein in reply. He watched Reinhard and the others leave, offering a final salute when the kaiser turned back one last time, and then strode unhurriedly into the trees by the path to take cover.
The limits of Lutz's patience were not tested. Ten seconds later, roughly a platoon's worth of pursuers turned up. Lutz opened fire.
The pursuers visibly shrank from him. They knew Lutz as a great general, but had never imagined that he was such an accurate marksman.
In just two minutes, Lutz's blaster felled eight men, half of whom died instantly. Despite the flames and the relentlessly approaching enemies, he remained flawlessly composed. Half-concealed behind a great tree, sometimes even taking the time to brush off the sparks that showered down on him, Lutz held the line grimly. When he heard calls for him to surrender, he unflappably replied, "Surrender! And rob you of the chance to see how a senior admiral of the Lohengramm Dynasty dies? Whether you come with me or not, why not watch and learn?"
Then he extended an arm as unbending as his spirit and pulled the trigger again.
It was as if his own will poured forth from the barrel in streams of pure energy. The pursuers seemed to forgot their numbers--each of them returned fire desperately, as if facing him alone. They dove into the forest to escape his deadly accuracy, only to be chased out again by the flames.
As he loaded his third and final energy capsule into his blaster, Lutz wondered when exactly Brünhild would take off. He felt irritation not for himself but on behalf of Reinhard and the others.
The flames flickered wildly. The red and black and darkness and light that had struggled for supremacy above him was pushed aside by an all-illuminating silver gleam. Looking skyward, Lutz saw a warship that every soldier in the Galactic Empire knew. A great bird of purest white, spreading its wings amid a thicket of energy beams rising uselessly toward it from the planet's surface. The sight was magnificent.
The transcendental moment passed. Lutz saw a thin beam of white light pierce him beneath his left clavicle, and then felt it emerge from his back just beside his left shoulder blade. Pain exploded from the point of impact, spreading to fill his body. Lutz staggered just half a pace backward, frowned slightly, and brought down two more pursuers with two more pulls of the trigger. He pressed his left hand to the breast of his uniform and felt an unpleasant stickiness. Tiny snakes of a dark, wet color trickled from between his fingers and crawled downward.
Still upright, he once more pulled the trigger, which now felt very heavy. As his target spasmed before a backdrop of flame in a brief dance of death, the left side of Lutz's skull was pierced by a diagonal blast of return fire. A gout of blood poured from his ear. The flames disappeared from his field of vision, leaving only darkness.
"Mein Kaiser... I am afraid I cannot make good on that promise to accept the marshal's rod alive. I shall await my reprimand in Valhalla--but let it not be for some time yet..."
Copyright © 1987 by Yoshiki Tanaka
Reviews
There are currently no reviews for this novel. Be the first to submit one! You must be logged in to submit a review in the BookTrackr section above.
Images
No alternate cover images currently exist for this novel. Be the first to submit one!