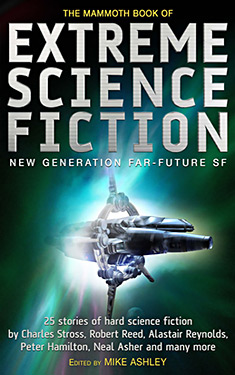 The Mammoth Book of Extreme Science Fiction
Synopsis
Here are 25 stories of science fiction that push the envelope, by the biggest names in an emerging new crop of high-tech futuristic SF - including Charles Stross, Robert Reed, Alastair Reynolds, Peter Hamilton and Neal Asher. High-tech SF has made a significant comeback in the last decade, as bestselling authors successfully blend the super-science of 'hard science fiction' with real characters in an understandable scenario. It is perhaps a reflection of how technologically controlled our world is that readers increasingly look for science fiction that considers the fates of mankind as a result of increasing scientific domination. This anthology brings together the most extreme examples of the new high-tech, far-future science fiction, pushing the limits way beyond normal boundaries.
Table of Contents:
Extreme Science Fiction - essay by Mike Ashley
Anomalies - (2001) - short story by Gregory Benford
... And the Dish Ran Away with the Spoon - (2003) - short story by Paul Di Filippo
Crucifixion Variations - (1998) - novelette by Lawrence Person
The Pacific Mystery - novelette by Stephen Baxter
Flowers from Alice - (2003) - short story by Charles Stross and Cory Doctorow
Merlin's Gun - (2000) - novelette by Alastair Reynolds
Death in the Promised Land - (1995) - novella by Pat Cadigan
The Long Chase - (2002) - short story by Geoffrey A. Landis
Waterworld - (1994) - novelette by Stephen L. Gillett, Ph.D. and Jerry Oltion
Hoop-of-Benzene - novelette by Robert Reed
The New Humans - (1909) - novelette by B. Vallance
The Creator - (1935) - novelette by Clifford D. Simak
The Girl Had Guts - (1957) - novelette by Theodore Sturgeon
The Region Between - (1970) - novella by Harlan Ellison
The Days of Solomon Gursky - (1998) - novella by Ian McDonald
Wang's Carpets - (1995) - novelette by Greg Egan
Undone - (2001) - novelette by James Patrick Kelly
Judgment Engine - (1995) - novelette by Greg Bear
Stuffing - short story by Jerry Oltion
Excerpt
No excerpt currently exists for this novel.
Reviews
There are currently no reviews for this novel. Be the first to submit one! You must be logged in to submit a review in the BookTrackr section above.
Images
No alternate cover images currently exist for this novel.