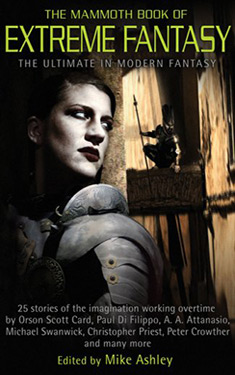 The Mammoth Book of Extreme Fantasy
Synopsis
Here is the future of fantasy--25 short stories from top contemporary writers. This collection embraces all the newest forms of fantasy in vogue, from urban fantasy and extreme dystopian fiction, to alternate history and entire new fantasy worlds.
Table of Contents:
1 - Beyond the Impossible - essay by Mike Ashley
5 - Senator Bilbo - short story by Andy Duncan
23 - Sandmagic - novelette by Orson Scott Card
43 - Dream a Little Dream for Me ... - novelette by Peter Crowther
71 - Lost Wax - short story by Leah Bobet
81 - Save a Place in the Lifeboat for Me - novelette by Howard Waldrop
107 - I Am Bonaro - short story by John Niendorff
113 - The Old House Under the Snow - novelette by Rhys Hughes
149 - Banquet of the Lords of Night - short story by Liz Williams
161 - Charlie the Purple Giraffe Was Acting Strangely - short story by David D. Levine
171 - Master Lao and the Flying Horror - novelette by Lawrence Person
205 - Using It and Losing It - short story by Jonathan Lethem
215 - The All-At-Once Man - novelette by R. A. Lafferty
237 - Eloi Eloi Lama Sabachthani - short story by William Hope Hodgson
257 - Boatman's Holiday - short story by Jeffrey Ford
275 - The Detweiler Boy - novelette by Tom Reamy
317 - The Fence at the End of the World - short story by Melissa Mia Hall
325 - Elric at the End of Time - novelette by Michael Moorcock
373 - Cup and Table - short story by Tim Pratt
391 - I, Haruspex - novelette by Christopher Priest
435 - Radio Waves - novelette by Michael Swanwick
461 - Tower of Babylon - novelette by Ted Chiang
491 - Jack Neck and the Worry Bird - novelette by Paul Di Filippo
513 - The Dark One - novelette by A. A. Attanasio
541 - A Ring of Green Fire - short story by Sean McMullen
Excerpt
No excerpt currently exists for this novel.
Reviews
There are currently no reviews for this novel. Be the first to submit one! You must be logged in to submit a review in the BookTrackr section above.
Images
No alternate cover images currently exist for this novel.