Advertise on WWEnd
Worlds Without End is a fan site built from the ground up to help genre fiction fans find the books they crave. WWEnd has 6,500 members and averages ~600 visitors a day. They come here for one reason: BOOKS! With more than 33,000 books, 6,200 authors, and 1,500 publishers in our growing database, there is plenty of opportunity for them to find their next great read. And plenty of opportunity for you to get your books, authors, and genre products in front of them!
Buy One, Get One Free!
Early adopters can get two months of banner placement for the price of one. You can run the same banner for the entire period or replace it with a new one every month.
Ad Details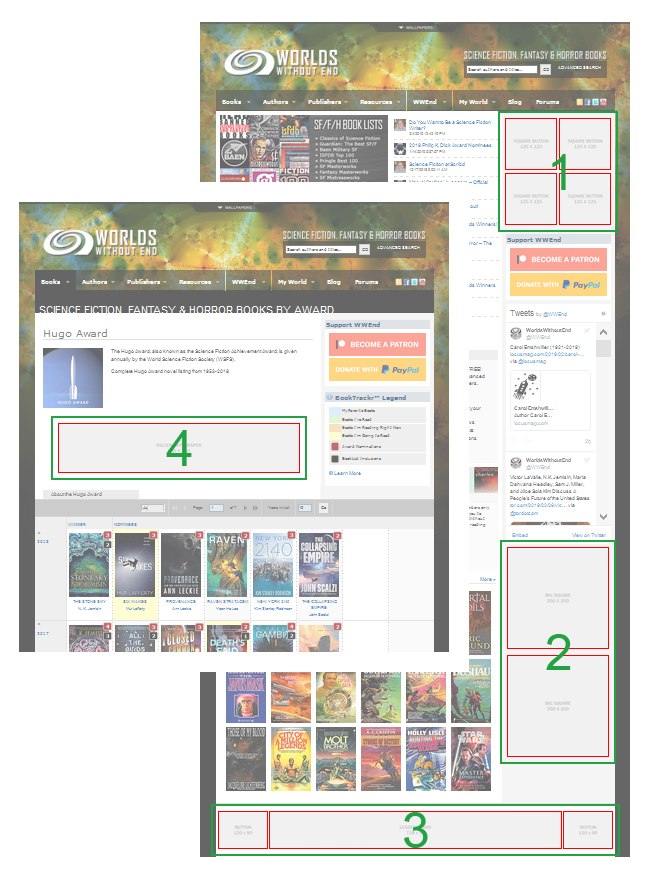 Zone 1 (Sidebar Top)
Zone 1 has four 125x125 Square Button ads. They appear at the top of every page that has a sidebar including the home page and the blog. These are the first ads a visitor sees on the site.
Square Button
125x125 pixels
$50/mo
Zone 2 (Sidebar Bottom)
Zone 2 contains two 300x250 Medium Rectangle ads. They appear on every page that has a sidebar including the home page and the blog.
Medium Rectangle
300x250 pixels
$150/mo
Zone 3 (Footer)
Zone 3 contains two 120x90 Button ads located on either side of a 728x90 Leaderboard ad in the center. Ads placed in Zone 3 appear on every page of the site including the home page, forum, and blog.
Leaderboard
728x90 pixels
$200/mo
Button
120x90 pixels
$75/mo
Zone 4 (Content Area)
Zone 4 contains a single 728x90 Leaderboard ad in the middle of the page content. These ads show on pages that don't have a sidebar which includes all the award and list pages - our most popular pages.
Leaderboard
728x90 pixels
$200/mo
We use PayPal for safe and secure transactions. Click the Add to Cart button for the size banner you want. If you want multiple months for the same banner you can change the quantity in your shopping cart. If you want to purchase multiple banner types click Continue Shopping at the top of the shopping cart page to come back to this page where you can select a different banner type.
For our Buy One Get One Free promotion we will double your banner time on the backend. Please select the number of months you wish to pay for. Example: If you change the quantity of a banner to 3 you will be paying for 3 months but we will run your ad for 6 months.
If you want to buy 2 of the same banner just double the number of months and let us know in the notes that the order is for two banners.
If you have any questions please contact Rico at ads@worldswithoutend.com.
Banner Types
Here are the banner types we currently offer. You will upload your banner art after you finish checking out. Accepted file types for banners are .jpg, .png, and .gif. Animated banners are allowed.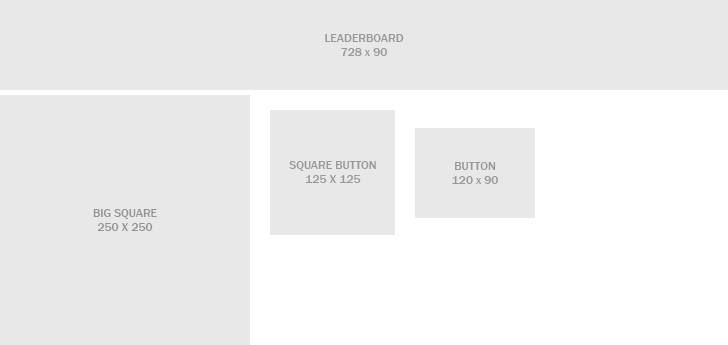 Banner Restrictions
Worlds Without End is determined to only serve ads that are of potential interest to our visitors and germane to science fiction, fantasy, and horror. Genre related material (movies, games, music, comics, products, events, etc.) will be reviewed on a case by case basis. We reserve the right to reject any advertisement that is outside our genre or deemed as potentially offensive, misleading, or unethical at our own descretion.