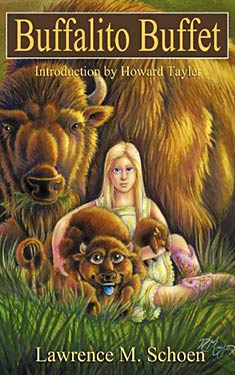 Synopsis
For years, Lawrence M. Schoen has been producing stories about the ever more popular Amazing Conroy and his companion, a buffalito named Reggie. Buffalitos are alien creatures that look like miniature bison and can consume anything. Their only waste product is oxygen... which makes for limitless possibilities. Here we present a collection of those stories, including Nebula-Award-nominated novella, "Barry's Tale," which adds to the adventures of the hypnotist-turned-business-owner as he and Reggie travel the known universe, as well as beyond Human Space.
Buffalo Dogs - A poverty-stricken hypnotist trying to redeem his finances gains a buffalito companion, Reggie. - (2001)
Buffalogenesis - Conroy founds his Buffalogic empire of buffalitos, gets very rich, and manages to not get his arms cut off. - (2006)
Barry's Tale - Conroy and Reggie save the life of a very special little girl - while sampling spectacular intergalactic barbeque. - (2011) (nominee for 2012 Nebula Best Novella)
A Buffalito of Mars - The red planet gets a terraformed atmosphere courtesy of the buffalitos - and Conroy has an alien encounter which he uses to enrich humankind. - (2007)
Requiem - A young, impoverished Conroy becomes "The Amazing Conroy" - and helps an alien friend to acquire immortality. - (2005)
Telepathic Intent - Conroy meets the love of his life, is charged with murder, and has to solve the mystery to save himself. - (2003)
The Matter At Hand - Conroy enlists the assistance of a gambler extraordinaire to defeat a telepathic alien in an exceptionally high-stakes card game. - (2008)
Yesterday's Taste - Conroy helps a friend recreate the recipe for a legendary dish with an hypnotic sleight-of-hand. - (2011) (nominee for the 2012 WSFS Small Press Award)
This is a collection of stories which sets up the Conroyverse, and is best read prior to the Buffalito Destiny and Buffalito Contingency novels.
Excerpt
"Buffalo Dogs" can be read online here.
"Barry's Tale" can be read online here.
"Yesterday's Taste" can be read online here.
Copyright © 2012 by Lawrence M. Schoen
Reviews
There are currently no reviews for this novel. Be the first to submit one! You must be logged in to submit a review in the BookTrackr section above.
Images
No alternate cover images currently exist for this novel. Be the first to submit one!