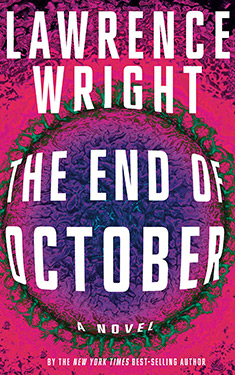 Synopsis
At an internment camp in Indonesia, forty-seven people are pronounced dead with acute hemorrhagic fever. When Henry Parsons--microbiologist, epidemiologist--travels there on behalf of the World Health Organization to investigate, what he finds will soon have staggering repercussions across the globe: an infected man is on his way to join the millions of worshippers in the annual Hajj to Mecca. Now, Henry joins forces with a Saudi prince and doctor in an attempt to quarantine the entire host of pilgrims in the holy city...
A Russian émigré, a woman who has risen to deputy director of U.S. Homeland Security, scrambles to mount a response to what may be an act of biowarfare... Already-fraying global relations begin to snap, one by one, in the face of a pandemic... Henry's wife, Jill, and their children face diminishing odds of survival in Atlanta... And the disease slashes across the United States, dismantling institutions--scientific, religious, governmental--and decimating the population.
As packed with suspense as it is with the fascinating history of viral diseases, Lawrence Wright has given us a full-tilt, electrifying, one-of-a-kind thriller.
Excerpt
Dear Readers,
The events depicted in The End of October were meant to serve as a cautionary tale. But real life doesn't always wait for warnings. As I write, the entire world is enveloped in a viral disease much like the one I imagined within these pages.
It's been said that the book is a kind of prophecy, but I see it simply as the result of careful research. I asked the question: what is the gravest threat to human civilization? Nuclear war and global warming are existential threats, but throughout history diseases have periodically capsized societies. A century has passed since the 1918 "Spanish" flu that killed between fifty and a hundred million people. What if something like that returned, in our time, where travel is rapid and cities are densely populated and public health has receded as a primary concern?
I have applied the same rigorous standards that I bring to my nonfiction. Nothing presented here as factual is invented. I interviewed many scientists and epidemiologists who are now at the forefront of America's effort to constrain the pandemic. As for the geopolitics I describe, I merely extended trends I observed in the world to certain logical conclusions. I spoke to top government officials and military figures. Everyone I spoke to shared the concerns I expressed herein--something like this could happen. And now it has.
Of course, this book is a novel. One with heroes and villains and a clock ticking in the background. It was exciting to research and to write, and what I learned gave me hope about our institutions and the people who are working to shield us from catastrophe. I was particularly impressed by the ingenuity and courage of the people who have dedicated their lives to public health. It is to them that the novel is dedicated.
I hope you enjoy it.
Lawrence Wright
Copyright © 2020 by Lawrence Wright
Reviews
There are currently no reviews for this novel. Be the first to submit one! You must be logged in to submit a review in the BookTrackr section above.
Images
No alternate cover images currently exist for this novel. Be the first to submit one!