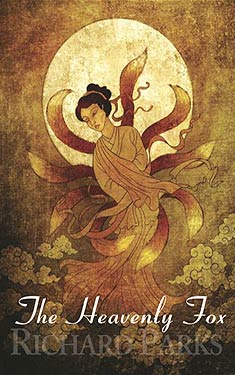 Synopsis
A fox who reaches the age of fifty gains the ability to transform into a human woman. A fox who reaches the age of one hundred can transform into either a beautiful young girl or a handsome young man at will and can sense the world around them to a distance of over four hundred leagues. A fox who reaches the age of one thousand years, however, becomes a Heavenly Fox, an Immortal of great power, able to commune with the gods themselves.
Excerpt
Springshadow stood up. Her form was somewhere between fully human and fully vulpine; a transitional form that gave her human hands and other aspects of humans that were useful, without fully surrendering her fox senses, and she'd used it often. Only now there seemed to be more to it. Several "mores," actually.
"My tail feels funny."
"Say rather your tails, girl," Wildeye said, and started counting.
"You're a Heavenly Fox now, Springshadow. Look up," said the goddess.
Springshadow looked up. There, in the distant sky far beyond the clouds, far beyond the mortal world yet clearly visible, clearly reachable, was a magnificent floating city with towers of gold and walls of the finest jade.
Wildeye gave a grunt of triumph as he finished his count. "Nine! And each as magnificent as the last."
"What are you babbling about? Nine what?" Springshadow said, unable for the moment to take her eyes off of Heaven and the floating city.
"Tails, of course," he said. "Yours."
That finally got Springshadow's attention. She quickly glanced behind her like a courtesan checking her appearance. It took her a moment to understand what she was seeing, but she finally saw what Wildeye saw-fox tails.
Nine in all, and all, as Wildeye said, belonging to her. Attached.
"Nine?!"
"Nine." Wildeye nodded in grudging respect. "You have to admit," he said, turning to the goddess, "that's pretty damn impressive."
Copyright © 2011 by Richard Parks
Reviews
There are currently no reviews for this novel. Be the first to submit one! You must be logged in to submit a review in the BookTrackr section above.
Images
No alternate cover images currently exist for this novel. Be the first to submit one!