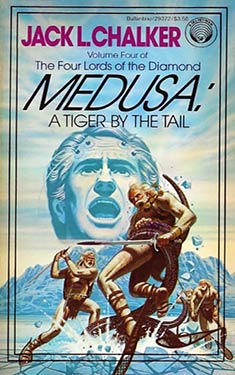 Medusa: A Tiger by the Tail
Synopsis
He wakes up on the prison ship and realizes that "he" is a copy. He is in the body of a 13 year old boy named Tarin Bul, a boy who had killed the man who killed his father. The boy had his mind wiped and the Agent's mind placed in it. The ship is taking him to Medusa, the farthest out of the Diamond worlds, and the coldest. At the newcomer orientation, he learns that technology works just fine on Medusa, and due to the Warden powers, all people infected can adapt to the extreme cold automatically. It is not revealed to him that the adaptive ability is quite comprehensive, and with proper sensitization to the Wardens, one could become almost any life form.
It is a totalitarian society, one headed by Talant Ypsir, who has helped perfect a system of complete surveillance of nearly all parts of the cities of the planets, overseen by The Monitor Service, who are the both the police and secret police. Given his age, he is hampered in his drive for social mobility, as it will be some years before he is old enough for any real job. He is paired with a girl and assigned a communal apartment unit.
He achieves some degree of progress when The Monitor Service calls him in and it is proposed that he be an informer. TMS plans to give him a promotion that will put him in the position of being recruited by an underground group of revolutionaries who wish to overthrow the system, and who may be in league with other such groups on other Diamond worlds. "Tarin" agrees to do this, though his sympathies already lie with the revolutionaries, and he still intends to complete his mission of assassinating the Lord of Medusa.
Excerpt
No excerpt currently exists for this novel. Be the first to submit one!

Submit an Excerpt
Reviews
There are currently no reviews for this novel. Be the first to submit one! You must be logged in to submit a review in the BookTrackr section above.
Images
No alternate cover images currently exist for this novel. Be the first to submit one!